Khaleda Zia should be sent abroad
Opines medical board, says her treatment options here exhausted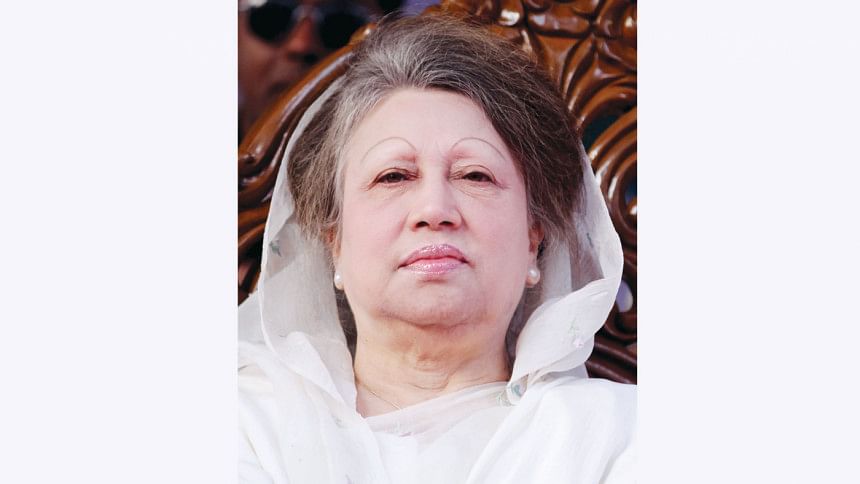 The medical board formed for BNP Chairperson Khaleda Zia's treatment yesterday said there was nothing more they could do for her in Bangladesh and advised sending her abroad for better treatment.
"We have done all that we can with whatever we have," Shahabuddin Talukder, chief of the medical board, told journalists at a press briefing at the Evercare Hospital, where the BNP chief is receiving treatment.
"Water has accumulated in madam's [Khaleda] stomach, the lungs are infected, and there is a slow bleeding in her stomach. She has received four bags of blood this time around. The condition is complex and difficult.
"Madam [Khaleda] has been taken to the CCU [coronary care unit] from the cabin. When is a patient taken to the CCU from the cabin? When the patient is critical and when there is every chance of collapse," he said.
FM Siddique, a member of the medical board, lamented that it is hard for them to take that a patient is gradually deteriorating before them when there is a cure for the disease. "Time has not run out yet."
He said the former prime minister is not getting proper treatment and is receiving temporary fixes.
She needs an immediate liver transplant and the facilities for that are not available in Bangladesh, he said.
"As per the medical board's unanimous decision, I want to convey to all concerned that there's still time to treat her with transjugular intrahepatic portosystemic shunt (TIPS) and also to transplant her liver at any advanced multidisciplinary centre abroad. Perhaps, we still have this option to improve her condition," the doctor said.
He said TIPS was immediately needed to stop water from accumulating in her stomach and chest, and halt the internal bleeding. "TIPS is a life-saving procedure which is not available in Bangladesh."
Another medical board member AKM Mohsin said liver transplantation cannot be done in Bangladesh due to the lack of required setup, equipment, and manpower. "One or two livers were experimentally transplanted here," he added.
On October 1, citing legal grounds, the government turned down the plea from Khaleda's family to allow her to go abroad for better treatment.
The 78-year-old is suffering from various ailments, including liver cirrhosis, arthritis, diabetes, kidney, lung, heart, and eye issues.
Since her conditional release in 2020, the BNP chief has been receiving treatment at the hospital under the medical board and at home.
On August 9, Khaleda was admitted to the Evercare Hospital after becoming seriously ill at her Gulshan home.