Doctoring EVMs almost impossible
Tech experts tell EC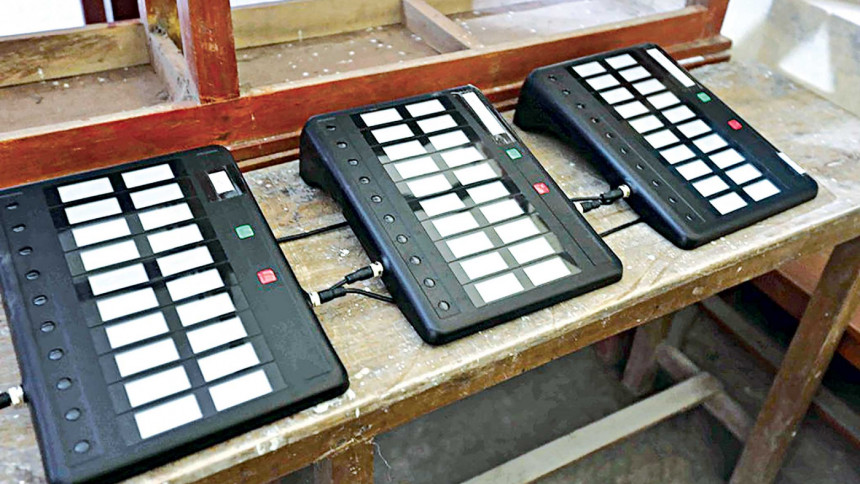 Information and communications technology experts yesterday said it would be almost impossible to manipulate the electronic voting machines.
After attending a views-exchange programme on the EVMs with the Election Commission, Muhammed Zafar Iqbal, former professor of Shahjalal University of Science and Technology, said, "I am convinced that this machine is nearly perfect and it is easy to operate.
"I have seen in the newspapers that political parties are making various demands, including formation of a new commission. I will tell the political parties that if you get to form a new commission, I will still request them to use this EVM. This will benefit you."
At the programme, the experts said tech experts from all political parties should be consulted so that the latter get a clear idea about the machines.
The experts recommended launching a countrywide mass campaign on how a vote can be cast using an EVM.
The BNP has long been opposing the use of EVMs, saying that the devices would allow the ruling party to "steal votes".
A number of civil society members and eminent citizens in recent talks also advised the EC against using EVMs unless there was a national consensus supporting it.
On May 7, Prime Minister Sheikh Hasina at an AL Central Working Committee meeting said EVMs would be used in all 300 parliamentary constituencies, according to insiders.
Chief Election Commissioner Kazi Habibul Awal on subsequent occasions said the EC was yet to make a final decision regarding the use of EVMs in the next general election.
When a reporter yesterday asked Prof Zafar whether there was a scope for anyone to customise the machine, he said, "I would request those who are saying this to make a specific complaint…"
Asked whether the Voter Verified Paper Audit Trail (VVPAT) should be added to the devices, Prof Zafar said such an addition would create more hassles.
VVPAT is a system which dispenses a slip with the symbol of the party for which an individual has voted.
Brac University Computer Science and Engineering (CSE) Distinguished Professor Mohammad Kaykobad said that it is tough to have 100 percent trust in a machine. "But the machine has been customised in such a way that... it is almost impossible to manipulate."
Buet CSE Professor Mohammad Mahfuzul Islam said the EC could urge tech experts from different political parties to discuss the issues related to EVM.
University of Asia Pacific CSE Prof Aloke Kumar Saha said, "EVM is a stand alone machine without an internet connection. It is not possible to manipulate it."
He recommended the EC launches a mass awareness campaign in villages to let people know how to use the devices.
CEC Habibul told reporters that the commission would urge technical experts representing the political parties to review the EVMs.
The parties that are against the EVMs may be invited to inform the commission what problems they were facing in written form, he added.
"We have to trust the people who understand these things, the ones who created these products," he said.