Info minister invites BNP to monitor AL Rajshahi rally from helicopter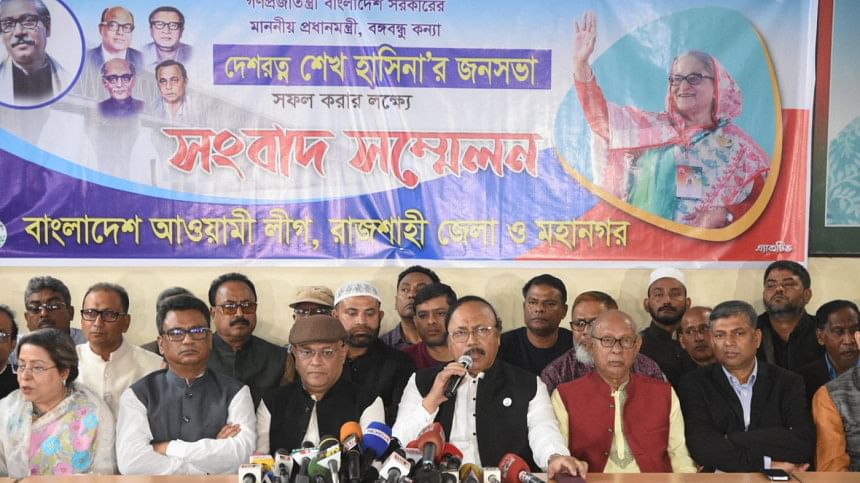 Information Minister Dr Hasan Mahmud has invited BNP leaders to see the prime minister's divisional rally in Rajshahi tomorrow from helicopter to witness people's participation.
The minister was addressing a press conference at Rajshahi city AL office in Kumarpara area over the preparations for the rally at Madrasa Maidan.
Prime Minister Sheikh Hasina will deliver speech at the rally tomorrow afternoon, reports our Rajshahi staff correspondent.
"BNP leaders have said that the prime minister's public meeting wouldn't see that much gatherings. I want to invite them to come and see the rally. If necessary, we will arrange a helicopter for them to see how many people participate in the rally," he added.
The minister said no country except Pakistan these days holds the national elections under a caretaker government. BNP imitates Pakistan, and that's why they want elections under a caretaker government, he added.
He said the Election Commission proposed a Tk 9,750 crore project to buy equipment for Electronic Voting Machines (EVMs).
"Considering the global context of recession, the government will not buy the EVMs. People's welfare is more important to us than the EVMs. We will agree with the Election Commission, if they want to hold elections at some constituencies with existing the EVMs".
Among others, AL presidium member and Rajshahi city mayor AHM Khairuzzaman Liton addressed the press conference.