Govt trying to foil united movement for democracy: Fakhrul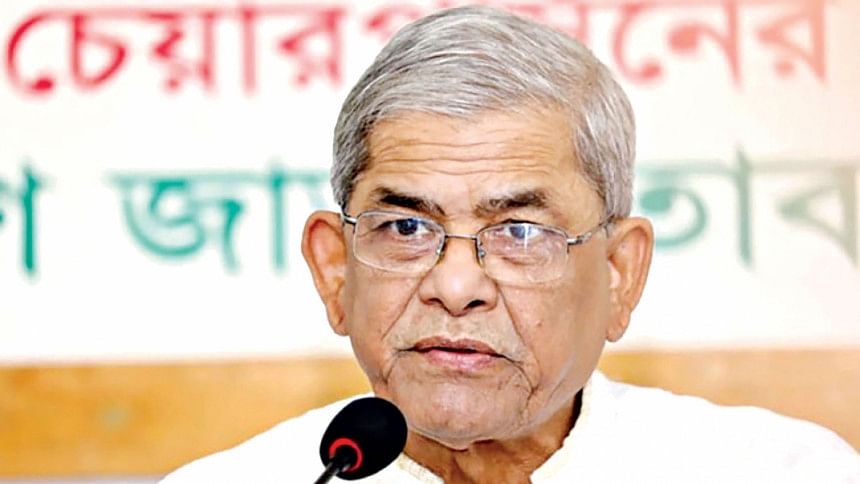 BNP Secretary General Mirza Fakhrul Islam Alamgir today said that the government and its agents are trying to foil the ongoing united movement for the restoration of democracy by resorting to various evil strategies and creating fabricated stories about a rift among the opposition alliances.
He added that the unity among the opposition parties who are on a movement against the government remains intact and they are moving forward to unseat the "fascist" regime.
Fakhrul made the remarks while talking to reporters at a press briefing after a meeting between the liaison committees of BNP and Ganatantra Mancha.
"There's no problem among us (opposition alliances) …naturally, the government and its agents are resorting to various evil tactics and creating various cooked-up stories by using the media to suppress and foil the united movement initiated by the opposition parties," he said.
Fakhrul also said they were least bothered about the government's efforts to ruin the unity of the opposition parties. "Our main focus is now on uniting people and increasing their involvement in our movement to oust the fascist and autocratic regime."
The meeting between the liaison committees began at the BNP chairperson's Gulshan office around 4:00pm and continued for over two hours.
In their meeting, Fakhrul said they decided to intensify the ongoing simultaneous movement further.
Asked about Awami League leader Sheikh Selim's statement in parliament that BNP Chairperson Khaleda Zia was freed from jail after she signed a bond saying she would not do politics anymore, Fakhrul said it was a cooked-up story.
"He (Selim) suddenly made up this story. It's a completely baseless, motivated, and fabricated comment," he added.