UP elections: 10 injured in pre-polls violence in Pabna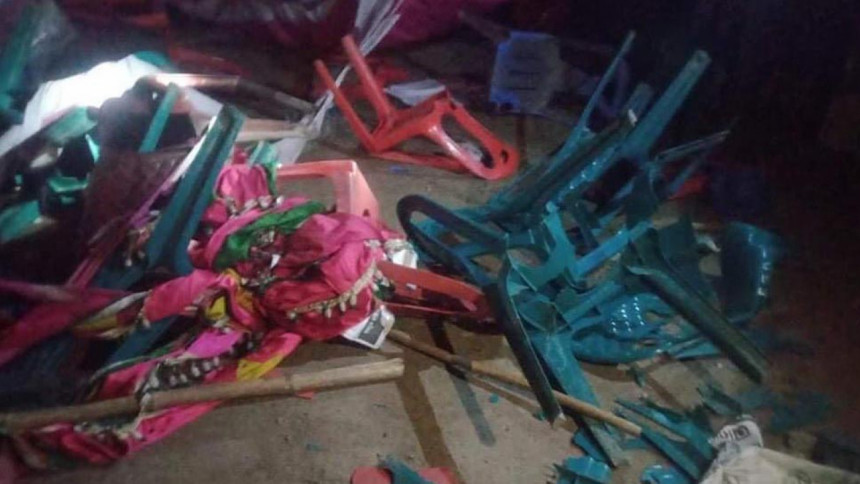 At least 10 people were injured -- three hit by bullets -- in a gunfight between supporters of Awami League and rebel chairman candidates of Manikhaat union parishad election, in Pabna's Sujanagar upazila, last night.
The three bullet-injured -- Md Motaleb Hossain (37), Md Sagor Hossain (35) and Md Fozlur Rahman (55) -- were admitted to Sujanagar Upazila Health Complex.
Later, Motaleb was shifted to Pabna Medical College Hospital as his condition deteriorated, reports our Pabna correspondent.
Both AL nominated chairman candidate Shafiul Alam and rebel candidate Abbas Ali Mollik blamed each other for the clash. 
Shafiul alleged that Abbas Ali's people attacked his men in Bonkola Bazar area around 8pm yesterday during campaign.
They opened fire and torched a boat that his people were carrying with them on a rickshaw-van during campaign, he claimed.
Followers of Abbas Ali also carried out another attack on his people in Raipur Bazar area around 9pm yesterday, Shafiul said.
Abbas Ali, also president of the party's Manikhaat union unit, however denied the allegations and said Shafiul's followers attacked his men in Bonkola bazar area during their campaign.
"Outsider cadres who came by microbus beat up our people and opened fire, turning the spot into a battle field," Abbas alleged.
Officer-in-charge of Sujanagar Police Station Md Mizanur Rahman told the Daily Star that additional police have been deployed in the area to keep the situation under control. Police are investigating the incident, the OC said.
No official complaint was lodged till filling of this report.
On Saturday night, at least five people were injured in attacks carried out allegedly by rival candidates following a feud over the upcoming union parishad elections in Sujanagar upazila.