EC to take on challenges of fair elections
New CEC Awal says after taking oath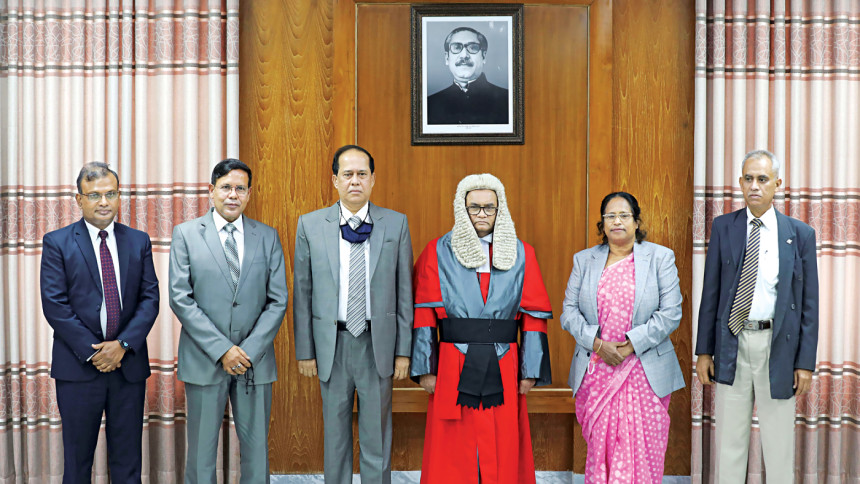 Newly appointed Chief Election Commissioner Kazi Habibul Awal yesterday said the commission will take on the challenges of holding free and fair elections.
"Every election, whether it is the central election or local government election, is a challenge that must be faced without fear. We hope we will overcome the challenges with cooperation from the stakeholders," he told reporters after he and the other election commissioners were sworn in at the Supreme Court Judges' Lounge.
"We will… determine the procedures of our work and strategy in order to face the challenges," he said.
The Election Commission will give its best possible efforts to hold credible elections in future.
"We will join office tomorrow. We will discuss and exchange views and thoughts among ourselves. We will try to learn what responsibilities have been given to us under the constitution and law. After studying, we will be able to specifically say how we will perform our duties," he said.
He added that cooperation from the stakeholders is needed to hold an election.
Awal did not comment on the BNP's refusal to accept the new commissioners.
Chief Justice Hasan Foez Siddique administered their oaths around 4:30pm.
Judges of the Appellate Division, including search committee chairman Justice Obaidul Hassan, SC officials and Election Commission officials were present at the ceremony.
On Saturday, President Md Abdul Hamid appointed former senior secretary of the defence ministry Kazi Habibul Awal as the CEC and four others as election commissioners.
The four election commissioners are: former district and sessions judge Rashida Sultana, Brig Gen (retd) Md Ahsan Habib Khan, former EC secretary Md Alamgir, and former energy and mineral resources division senior secretary Anisur Rahman.