EC nominations: Hasina gets list from top AL leaders
Will send the final names to Cabinet Division tomorrow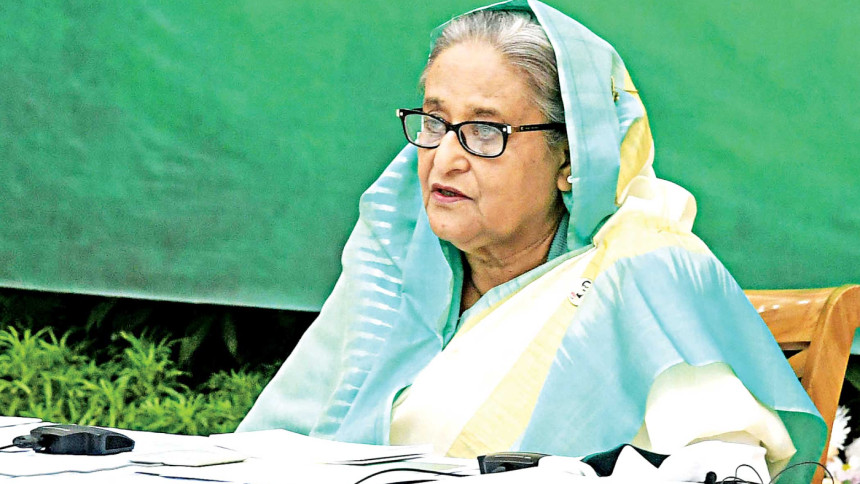 Awami League presidium members yesterday gave party chief Sheikh Hasina their recommendations of individuals who would form the next Election Commission.  
The individuals recommended include a former chief justice, a former cabinet secretary, a former chief of army staff, a former inspector general of police, a retired brigadier general, a former chairman of Public Service Commission, and a former finance secretary, said a presidium member who attended the meeting with Hasina in the chair yesterday afternoon.
The prime minister said she would shortlist 10 individuals recommended by the presidium members and send it to the Cabinet Division on Thursday.
Sources at the meeting held at the Gono Bhaban, said every presidium member, except Mofazzal Hossain Chowdhury Maya, recommended individuals for the posts of chief election commissioner and five election commissioners.
The meeting took place after a search committee sought names from political parties on Sunday. The search committee is tasked with recommending individuals to the president for appointments to the Election Commission.
The six-member search committee, formed by President Abdul Hamid, will recommend new election commissioners by February 24.
At yesterday's meeting, Hasina asked the presidium members to prepare for the 12th national election to be held between November 2023 and January 2024.
"No need to sit idle. We should not wait for the decisions of the other parties over the national election. We must make preparations from now on," Hasina was quoted as saying by an AL leader who wished not to be named.
She also asked the AL leaders to hold fully-fledged councils at the grassroot-level after the current Covid restrictions are lifted on February 21.
The PM also termed the US sanctions on Rab illogical and added that similar things happen in America, said the sources.
Referring to the Narayanganj City Corporation election, the AL chief said nobody can beat an AL nominee if the local leaders and activists are united. She added that the AL's selection of the nominee was good and thanked everyone involved in that poll.
She said the AL has remarkably changed the country with its more than one-decade rule, reports UNB.
The PM also said her government has been able to keep the wheel of the country's economy moving amid the pandemic.