Don't form committees with family members or relatives
Quader tells AL men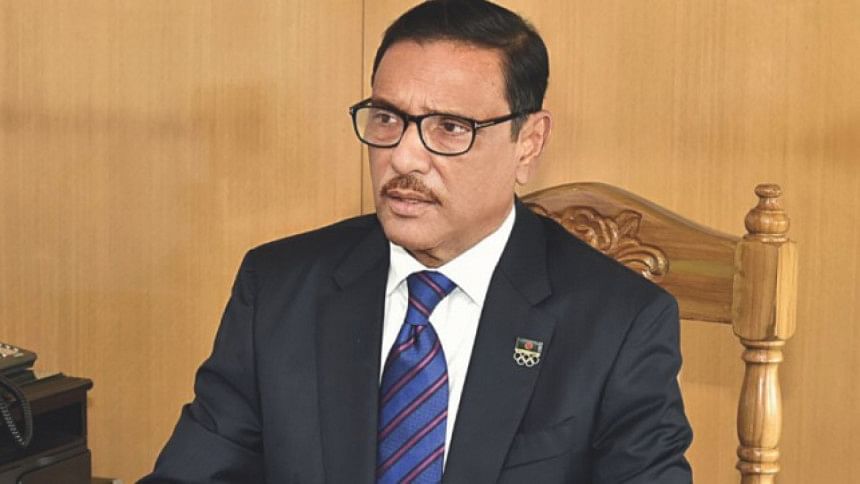 Awami League General Secretary Obaidul Quader today asked his party men not to form any committee comprised of "family members or relatives".
"It will not be allowed to form any committee keeping family members or relatives. Make committees with those who are devoted and were with the party during its bad times.... Do not make anyone a leader just because he or she is a known face," Quader came up with the call while speaking at AL's Mymensingh divisional delegation meeting held at the party headquarters in Gulistan.
Addressing the leaders, Quader, also the road, transport and bridges minister said, "Do not form committees through pocket trade or nepotism; committees have to formed with the devoted activists. Please form the committees immediately."
He alleged that the BNP never follow the path of democracy.
"We practise democracy, BNP does not. Awami League is the only party that practise internal democracy in the country.
"The BNP lodged complaints with the foreigners that there is no democracy in Awami League. But they [BNP] do not hold any conference or meeting centrally. How would they establish democracy in the country?" the minister added.
The AL general secretary also alleged that propaganda is being spread about the party, and directed the party activists to form cell to prevents propaganda.
Chaired by Deputy Leader of the House Matia Chowdhury, the meeting was attended, among others, by AL Joint General Secretary Dr Dipu Moni, Organising Secretaries Mirza Azam and Shafiul Alam Chowdhury Nadel, Cultural Affairs Secretary Asim Kumar Ukil, State Minister for Cultural Affairs KM Khalid and State Minister for Religion Faridul Haque.