Continued democracy boosts development: PM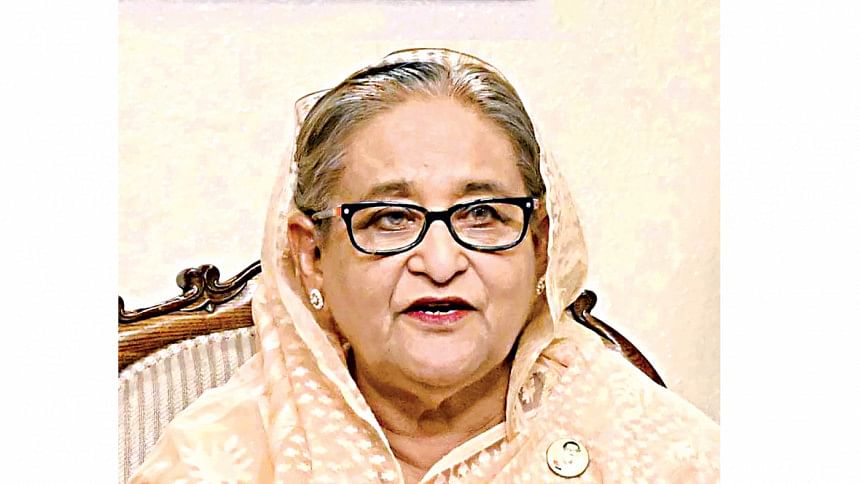 Prime Minister Sheikh Hasina today said Bangladesh has witnessed a tremendous progress only because of the continuation of democracy and elected governments.
"Bangladesh couldn't have developed so much unless there was continuation of the democratic process," she said while opening 11 newly completed projects under the Housing and Public Works Ministry.
The premier inaugurated the projects, joining a programme at Ramna Batamul (Ramna Park) through a virtual platform from her official residence Gono Bhaban.
The projects were implemented in the 2021-2022 fiscal year by the Public Works Department, the Rajdhani Unnayan Kartripakkha (Rajuk), and the National Housing Authority.
Hasina said her government took Bangladesh forward as per its plans and Bangladesh gained the status of a developing country in 2021. "It has been possible only because democracy continued and elected public representatives have been in power since 2009," she said.
She said the people voted Awami League to power in the 2014 and 2018 elections as the AL government worked for the development of the people.
"I hope you all notice the change Bangladesh witnessed in the last 14 years (2009-2023) and it has been possible only because Awami League is in power," she added.
She also asked people to practice austerity in using electricity, water and other resources during the global crisis induced by the Covid-19 pandemic, Russia-Ukraine war and economic sanctions and counter-sanctions.
Among the projects opened today are six projects of Public Works Department: 20-storey Judges Quarters (90 flats) at Azimpur in Dhaka; nine 10-storey housing buildings (324 flats) for government officials and employees at Mirpur-6 in Dhaka; Renovation of Bangladesh Supreme Court Bar Library Bhaban, Annex Bhaban and Auditorium; Nine 10-storey housing buildings (324 flats) for government officials and employees at Noakhali Sadar; Infrastructural Development and overall beatification of Dhaka Ramna Park including Ramna Lake; and six 13-storey housing buildings (288 flats) for government officials and employees at Tejgaon in Dhaka.
Three projects of National Housing Authority are--1040 residential flats (Swapnanagar-1) for middle-income people in Mirpur-9; one 14-storey housing building (100 flats) in Mirpur-15; and Site and Services Residential Plots in Sunamganj.
Two Rajuk projects are Purbachal Water Supply Project Phase-I; and Progati High School Bhaban, Palkhan High School and Purbachal Adarsha College Bhaban in Purbachal new city project.