Contest nat'l polls to prove popularity
Quader tells BNP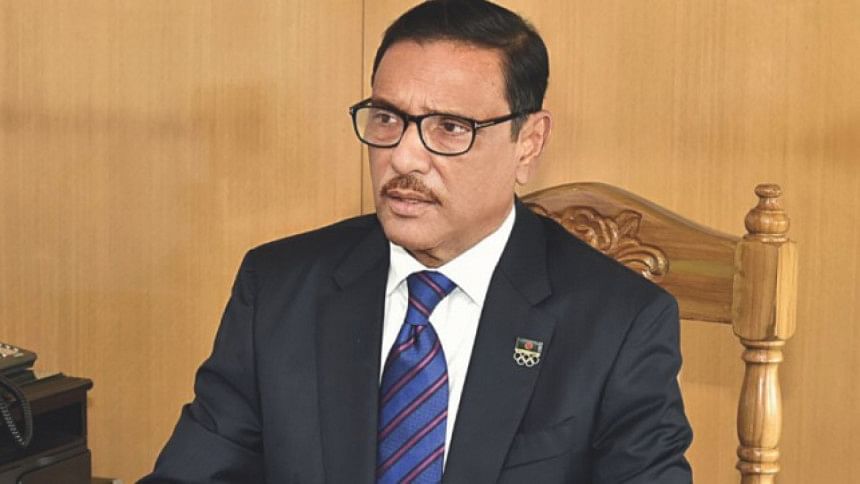 Awami League General Secretary Obaidul Quader yesterday asked the BNP to participate in the upcoming general election to prove how popular they actually are among the countrymen.
"Making hollow remarks does not prove that a political party is popular. If you want to test your popularity, come and take part in the elections," said Quader, in an obvious reference to the BNP.
He made the remarks while speaking at a discussion programme organised to mark the birth anniversary of Bangabandhu Sheikh Mujibur Rahman by the Dhaka (South) city unit AL in the capital's Dholaikhal.
Calling the BNP Secretary General Mirza Fakhrul Islam Alamgir the worst pathological liar in the country's political arena, he said, "I want to say one thing about Mirza Fakhrul, this man looks like a gentleman, but his heart is filled with poison. He never stops lying … How can a leader of a political party lie so much."
"When BNP leaders talk about corruption, the people find it humorous. They themselves are corrupt. How do they speak against corruption? They have no shame," he said in response to BNP leaders' allegation of corruption against AL leaders.
Quader, also the road, transport and bridges minister, said the BNP's movement died and it would never gain pace again.
Meanwhile, the Dhaka city (north) unit AL organised another discussion in the capital's Bhashantek area, while the Jubo League organised another such programme at the Uttara Friends Club ground.
Speaking at the AL's discussion, AL Presidium Member and former minister Matia Chowdhury said, "The main strength of the Awami League is in its activists. The leaders may compromise, but the activists remain constant when it comes to the question of the party and Sheikh Hasina."
She urged the party men to remain united ahead of the next national election.
Meanwhile, SM Mannan Kochi, general secretary of Dhaka (North) unit AL, said, "Stay alert and united to get the Awami League elected in the next parliamentary polls. If the BNP tries to murder people in the name of its movement, we will resist them."