BNP's Dec 10 Dhaka rally: Cops, AL to be on high alert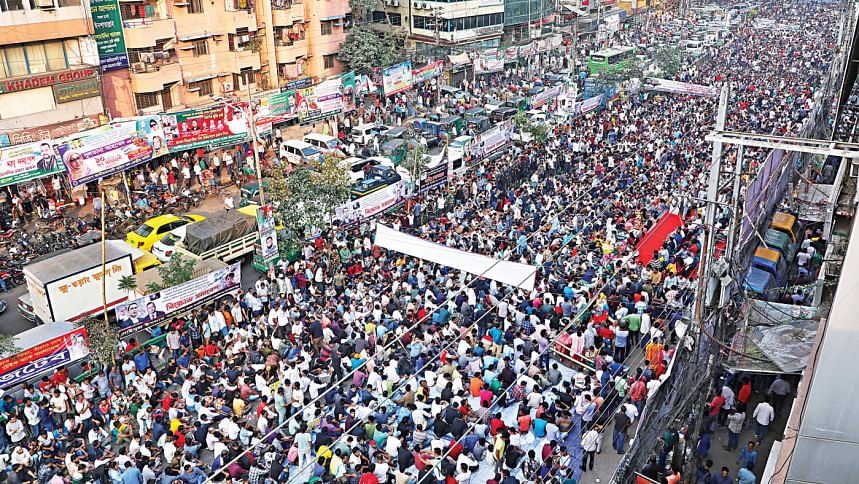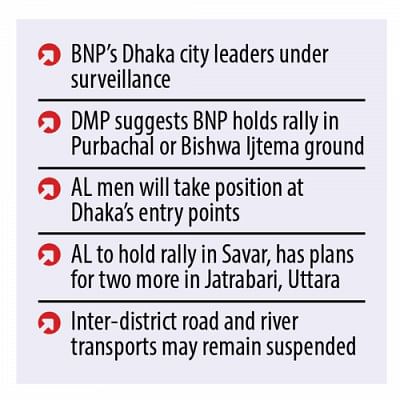 Law enforcers have taken all-out measures, including keeping Dhaka city BNP leaders and activists under close watch, to preempt "potential subversive activities" centering on the BNP's Dhaka rally on December 10.
Surveillance has already been stepped up to stop any arms and explosives from entering the city before the rally, law enforcement officials said.
Meanwhile, the ruling Awami League is making its own preparations to prevent BNP men from joining the rally. The measures include "cutting-off" Dhaka from the rest of the country and taking position across the capital.
Like ahead of the BNP's previous divisional rallies in other parts of the country, transport will remain off the roads before the December 10 rally. Inter-district vehicular and launch movement is likely to be suspended as well. But vehicular movement within the city will remain normal, AL insiders said.
They said the party is taking measures carefully as they are somewhat clueless about what the BNP would do during the Dhaka rally. 
The BNP is holding a series of public rallies in 10 divisional cities to protest price hikes of daily essentials and fuel and the deaths of its leaders in police action, as well as to press home the demand for the permanent release of its Chairperson Khaleda Zia.
The movement will end with the Dhaka rally where BNP plans to gather 10 lakh people.
After the announcement for the rally, some BNP leaders threatened to unseat the government, but later party leaders went soft, saying they have not such plans.
Sources in the Dhaka Metropolitan Police (DMP) said intelligence started putting key BNP leaders from city units to ward levels under surveillance.
According to police sources, police stations under the DMP have already been asked to execute pending arrest warrants for BNP leaders and activists and arrest other BNP men facing charges.
Police also started checking vehicles and goods-laden trucks at the capital's entry points to prevent anyone trying to get in with arms and explosives.
About the BNP rally, DMP Deputy Commissioner (Media) Faruk Hossain said it is for the government to decide whether the rally will go on as planned. 
"But we are making all preparations for the December 10 rally. We are prepared to prevent any unwanted situations," he told The Daily Star.
The BNP has already sought DMP's permission to hold their much-talked-about rally in front of the party's Nayapaltan office.
However, DMP suggested that the party shift the venue outside the centre of the capital, and hold it at the International Trade Fair ground at Purbachal or Bishwa Ijtema ground in Tongi, police sources said.
Contacted last night, BNP's Dhaka City North unit Convener Amanullah Aman said, "Our secretary general has already said we want to hold the rally in front of our Nayapaltan office. We don't have any alternative now. Earlier, we held grand rallies here, but this time it's a mass gathering. We hope we will get permission."
But in tune with the DMP, Awami League Presidium Member Jahangir Kabir Nanak at a programme at Suhrawardy Udyan on Monday made similar suggestions.
"BNP leaders are repeatedly saying they will assemble 10 lakh people at their rally. So, they should go for a venue that has the capacity to hold that many people," he said.
On BNP's Dhaka rally day, the AL will hold its own rally in Savar where it expects a crowd of 2 lakh people. Additionally, the party is planning two separate rallies in Jatrabari and Uttara -- two gateways to the capital. 
It will put its rank and file of Dhaka city on guard, and ask them to take position at the main streets and allies, as well as at other strategic points. 
Party leaders and activists will gather at the offices of 26 thana units, 64 ward and 802 units under Dhaka North City AL, and at 24 thana units, 75 ward and 605 unit offices under Dhaka South City AL.
AL Organising Secretary for Dhaka Division Mirza Azam said the AL men will take position at every unit of Dhaka City.
"We don't want to create any obstacle to the BNP rally. But we will not let them create any unwanted situation," he told The Daily Star. "We will also be alert to avoid confrontations."
The face-off between the two parties raised concerns among police, but they said they have preparations to tackle any possible confrontation between the two parties.