"Transport owners, workers probably call strikes to save buses"
Home and information ministers on BN rallies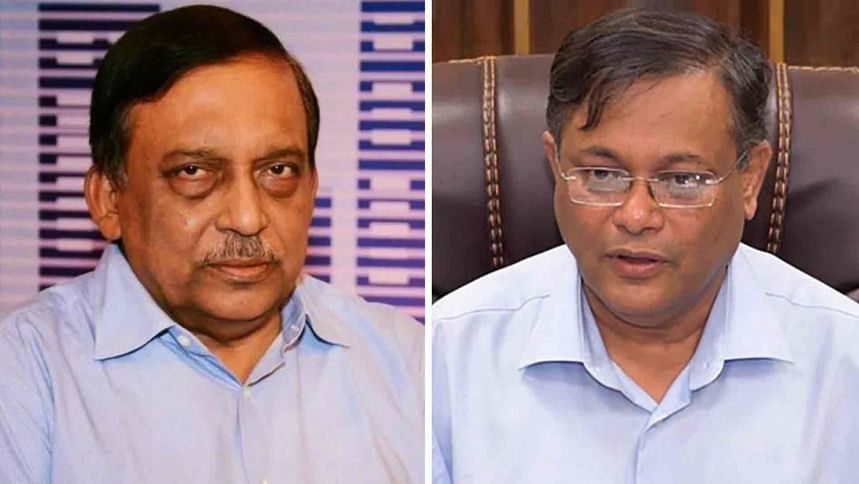 In separate programmes today (October 27, 2022), Home Minister Asaduzzaman Khan and Information Minister Hasan Mahmud said bus owners and workers probably call for transport strikes ahead of BNP rallies, out of fear as their buses were torched and vandalized during the party's previous movements.
Terming the transport organisations as "independent", both the ministers apparently said they have nothing to do in this regard.
During the BNP-Jamaat's anti-government protest in 2013 to 2015, many buses and trucks were torched, killing transport workers and passengers.
Although a large number of buses and trucks were vandalised, most transport owners and workers continue to operate their vehicles on the roadways.
But ahead of BNP's rallies in Mymensingh on October 15 and in Khulna on October 22, local transport organisations called for two-day strike, causing huge sufferings to people living in the two divisions.
"If they [transport owners] think it is not safe, they may not run their vehicles on the roads," Home Minister Asaduzzaman said replying to a query after a meeting at the secretariat.
"Owners and workers have seen how their buses were torched during the movement by BNP-Jamaat in the past. They [BNP] did not yet declare their movement has end," he said.
"We are not forcing them (transport leaders). They are independent. They will decide what they will do. We do not interfere in it," he said.
The government is not barring BNP to hold any political rallies anywhere, said the home minister.
In another programme, Information and Broadcasting Minister Hasan Mahmud said, "As BNP men burnt down buses, trucks and launces in the past, bus owners and workers called strike in Khulna. If they call strike in Barishal, it is for the same reason."
"I don't know what they will do in Rangpur. If similar things happen there, then it is up to the transport owners and workers."
Terming the organizations as independent, he said leaders of BNP, Awami League and Jatiya Party belong to these organisations, who unitedly decided to enforce strikes to save their buses.
Earlier on October 23, Road Transport and Bridges Minister Obaidul Quader said he has nothing to do if private bus operators call a sudden strike and cause public sufferings.