BNP men brave hurdles to join rally
Ignore unofficial transport strike in Mymensingh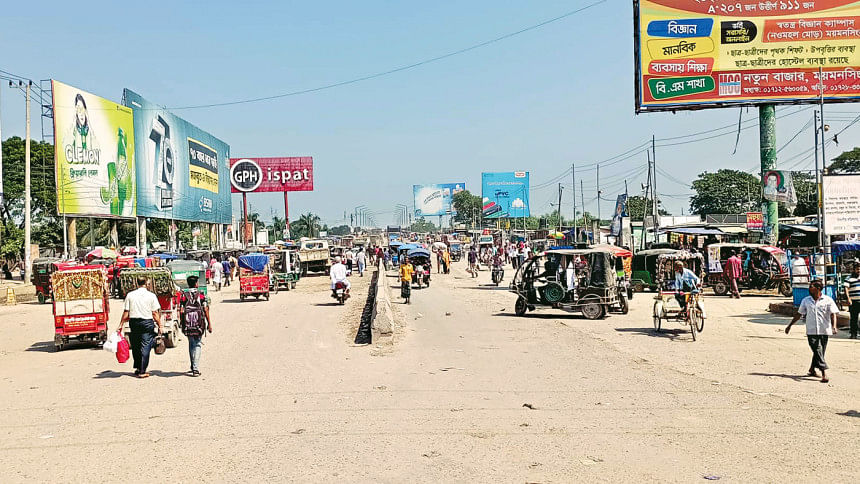 Activists of the BNP and its affiliated organisations faced numerous obstacles, including an undeclared transport strike and assault on their men, when they headed out to join a rally in Mymensingh yesterday.
Meanwhile, locals too suffered due to the lack of public transport in districts around Mymensingh – Jamalpur, Sherpur, Netrakona, Kishoreganj and Tangail.
As part of BNP's planned divisional rallies, the party's Mymensingh unit organised one on the Polytechnic Institute ground yesterday.
The BNP alleged that a transportation strike, which was not declared earlier, was enforced in Mymensingh division ahead of the rally in order to to prevent BNP men joining the rally.
Sensing that such obstructions might come, BNP leaders and activists took up various strategies, including being at the venue well before the rally began at 2:00pm, party insiders said.
Many of them stayed in Mymensingh overnight to dodge the ruling party men and the law enforcement agencies, they added.
In the absence of transport, party men reached the venue on boats and trains.
On Friday night, many BNP activists were seen sitting or sleep at the venue, while others made their sleeping arrangements on a footpath nearby.
Syed Imran Saleh Prince, BNP's organising secretary, told the media that party activists from Jamalpur, Sherpur, Netrakona and Kishoreganj faced numerous challenges while trying to join the rally as the bus service remained suspended since morning "on the government's directives".
"Our leaders and activists are still coming to the rally using all available transport. Many drivers of rented vehicles suddenly refused to carry our people to Mymensingh, citing safety concerns."
However, many bus operators said they suspended their operations fearing damage to their vehicle after similar incidents at the Chattogram rally.
Mahbubur Rahman, general secretary of Mymensingh District Motor Owners' Association, said vehicle owners stopped their services on safety grounds.
PUBLIC BUS SUSPENDED
All buses and CNG-run auto-rickshaws wen toff the roads from Jamalpur bus terminal since Friday night, reports our correspondent.
BNP leaders said the AL was involved in attempts to prevent BNP activists join the rally.
The Transport Owners' Association, however, claimed that bus drivers have expressed their reluctance to operate the vehicles due to previous cases of vandalism during such rallies.
Mahbub Alam, president of Jamalpur Bus Workers' Union, told The Daily Star, "Nobody ordered us to suspend services. The drivers did not agree to go to the rally venue fearing vandalism."
Passengers, especially the elderly, women, and children, of long routes suffered immensely due to lack of public transport. Many were seen walking.
"There was no bus at the Jamalpur bus terminal. I have to report to the office [in Dhaka] tomorrow. I'm at a loss ... ," Khadir Ali, of Islampur upazila, told The Daily Star yesterday.
"I have to go to Dhaka today [yesterday] for an important work. But how will I go? There is no bus on the road," Sneha, of ​​Jamalpur municipality, told The Daily Star.
Jamalpur BNP President Faridul Kabir Shamim told The Daily Star that ruling AL men threatened their leaders and activists not to attend the rally.
There were no buses on the inter-district routes in Mymensingh. No bus was seen leaving for Kishoreganj, Sherpur and Netrakona from there.
Buses from those three districts to Dhaka via Mymensingh were also not running.
However, bus service from Mymensingh to Dhaka was normal.
Sasum Ahmed Bhuiyan, superintendent of police in Mymensingh, said adequate security measures for the BNP rally were taken by the police administration. However, he did not know about suspension of bus services. 
AL MEN ON ROADS
AL men took to the roads at different points in Mymensingh to prevent BNP men from joining the rally. They were seen standing on the road with sticks.
At that time, locals complained about AL men stopping and searching their cars, misbehaving with them and assaulting their drivers.
Md Mainuddin, officer-in-charge of Trishal Police Station, however, denied any such incident.
In different parts of Gazipur's Bhaluka and Sreepur, AL men were seen taking to the streets, chanting slogans against the BNP.
A labourer came under attack yesterday, allegedly by AL men at Mymensingh's Gafargaon.
Mobarok Hossain, 33, was admitted to Gafargaon Upazila Health Complex.   
Meanwhile, Faruk Ahmed, officer-in-charge of Gafargaon Police Station, said he was not aware of any such incident.
This was the party's second divisional rally. The first was held in Chattogram on October 12.
The BNP on September 27 announced its division-level rallies in 10 cities to protest the ongoing power crisis, unusual price hikes of daily essentials and the killing of five of its activists during protest in Bhola, Narayanganj, Munshiganj and Jashore.
They party said it would conclude the rallies through a mass gathering in capital on December 10.