As BNP holds rally, AL men also take to streets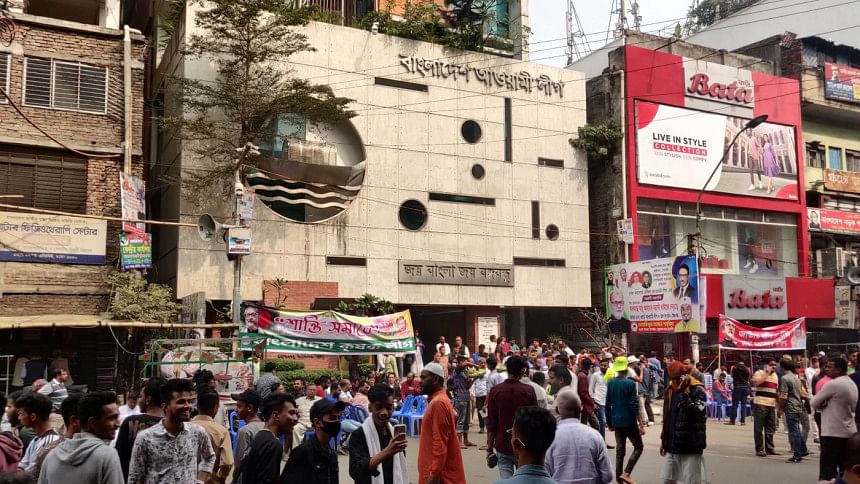 While the BNP prepares to hold a protest rally in the capital today, leaders and activists of the ruling Awami League have taken to the streets for rallies of their own, like they did on days of BNP programmes in the recent past.
The BNP and like-minded parties will hold six rallies in the capital as part of their simultaneous movement against the government, and the Awami League will hold counter-rallies at five different spots in Dhaka.
Although AL leaders said they would hold rallies to mark the Mass Uprising Day, and not to counter the BNP's protests, party insiders said the programmes would be held to "take control of the streets".
Earlier, the AL organised its programme marking Bangabandhu Sheikh Mujibur Rahman's Homecoming Day on January 11, the same day BNP staged a mass sit-in programme. The actual date of the homecoming is January 10.
This time too, the ruling party is observing Mass Uprising Day a day after the actual date.
The rally of Dhaka city (south) unit AL started in front of the central office of Bangladesh Awami League at Bangabandhu Avenue in Gulistan at 11:00am.
Awami League General Secretary Obaidul Quader is expected to participate in the rally.
From 10:00am, AL leaders and activists started gathering at the meeting place with processions from different places of the capital.
Anisur Rahman Anis, a member of Dhaka city (south) unit AL, told The Daily Star, "We are on the streets to keep a watchful eye on BNP's movement. If they try to cause any harm to people's lives, we will give them a befitting reply."
Rasheda Parvin, a vice-president of Jubo Mohila League, said, "As a pro-people party, the Awami League will always remain alert during BNP's protest. We also instructed our all activists to be on the streets today."
Jubo League is holding another rally at the Jatrabari intersection, while Jubo League's Dhaka city (north) unit will organise another rally in Mohakhali Kachabazar area.
According to AL insiders, they are conducting counter-programmes as they do not want to leave any space to BNP to wage bigger movements.
Also, they do not want the BNP's programme to get exclusive media coverage, which is why AL has taken a strategy of holding counter-programmes to disrupt media coverage.
Apart from this, leaders of Awami League think holding counter-programmes on the day of BNP's programme create a positive feeling among leaders and party workers. This strategy is unlikely to be reversed any time soon.