BNP divisional rally: Thousands flock to Barishal defying strike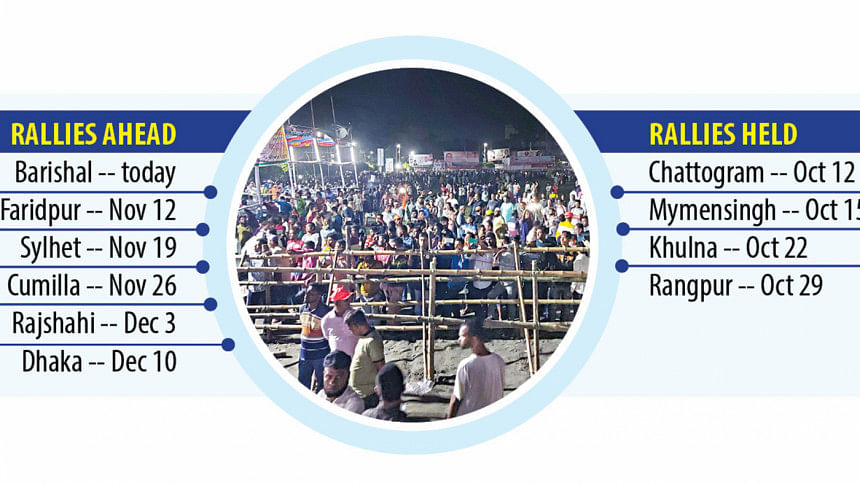 Although Barishal is almost cut off from the rest of the country, BNP leaders and activists kept pouring into the divisional city for the second straight day yesterday to join today's rally.
BNP men from different upazilas of Barishal and five other districts in the division travelled to the city by boats, trawlers, motorcycles and even on foot as two-day bus and three-wheeler strikes began yesterday morning.
Buses went off roads in all six districts of the division yesterday, said locals. The strikes caused immense sufferings to passengers.
Tension was growing in Barishal city as BNP men alleged that they came under attacks in different districts ahead of the meeting.
The opposition party is holding rallies at the divisional headquarters to protest the price hike of essentials and fuel, recent killings of five party men in police firings, and also demanding "release" of BNP Chairperson Khaleda Zia.
The party has so far held four rallies in Chattogram, Mymensingh, Khulna and Rangpur. Transport strikes were called ahead of those rallies except the first rally held in Chattogram.
Yesterday afternoon, Chhatra League brought out processions in Barishal city to mark the Jail Killing Day. Many leaders and activists of the pro-AL student body took part in processions riding several hundred motorcycles.
Law enforcers were seen checking vehicles and enquiring about the identities of passengers at different check points in the city.
Several thousand BNP leaders and activists reached the city a couple of days before the rally. Many of them were staying on roofs of residential buildings, launches and trawlers.
Visiting the Charmari Kheya Ghat yesterday, the correspondents found that more than 2,000 people were staying on board the MV Bhola, which reached the city on Thursday night.
"Some 2,500 people are on board. Party leaders and activists from Bhola came on around 20 trawlers to join the rally. We will leave the city after the rally ends," Mahmud Ali, a Jubo Dal leader from Bhola, told The Daily Star.
Party men were seen either sleeping or resting on decks and cabins. Food was being prepared for them in the galley.
Some 100 BNP men from Barishal's Wazirpur upazila were staying on the roofs of three residential buildings in Barishal Brown Compound area. Food was prepared for them on the roofs.
Habib Un Nabi Khan Sohel, joint secretary general and also the team leader of the Barishal rally, said many BNP leaders and activists were intercepted on their way to Barishal. "Overcoming all obstacles, thousands of party men will join the rally. No obstacles can bar them from taking part in the meeting."
BNP leader Moqbul Ahmed came from Pirojpur's Mathbaria, about 80km away from Barishal city. He said he had to change vehicles several times to get to the city.
"When our bus reached Gabkhan bridge area on Thursday midnight, Awami League men threw brick chunks at the vehicle, leaving a few of our party activists injured. Then we took a trawler from there to travel to Barishal city."
The Bangabandhu Udyan, the meeting venue, was seen partly filled yesterday evening as several thousand BNP leaders and activists had been gathering there since Thursday night.
They appeared upbeat and in a festive mood having been able to reach the venue overcoming all the obstacles.
The BNP was not given the whole park. The Barishal district administration was given another part of the park for hosting a programme on November 7.
BNP men along with some senior party leaders offered Juma prayers at the ground yesterday.
Party activist Wahidul Islam said, "The government wants to bar us from joining the rally. We came here two days ahead of the rally. We will leave the ground after the meeting ends."
BNP leaders and activists brought out processions near the party office adjacent to Sadar Road yesterday.
Billboards, banners, posters and placards have been put up in different areas of the city marking the rally.
PASSENGERS SUFFER
Md Hanif from Nazirpur in Pirojpur reached the Kheyaghat in Barishal city around 8:30am yesterday, but could not find any vessel to travel to Pirojpur until 11:45am.
"We all are suffering due to the suspension of launch services," he said.
At Bheduria Launch Terminal of Bhola, Billal Hossain with his wife and daughter waited for about two hours to catch a vessel to Barishal, but in vain. The family was to see Billal's ailing nephew who was to undergo a surgery.
At Nathullabad Bus Stand in Barishal city, a young man was seen desperately looking for a transport to go to Swarupkathi in Pirojpur. He received the news of his mother's death yesterday morning.
"I have to go home by any means. If necessary, I will walk 30 miles to get a last glimpse of my mother's body," he said.