'BCL activists torture student', teachers attack journos in SBMC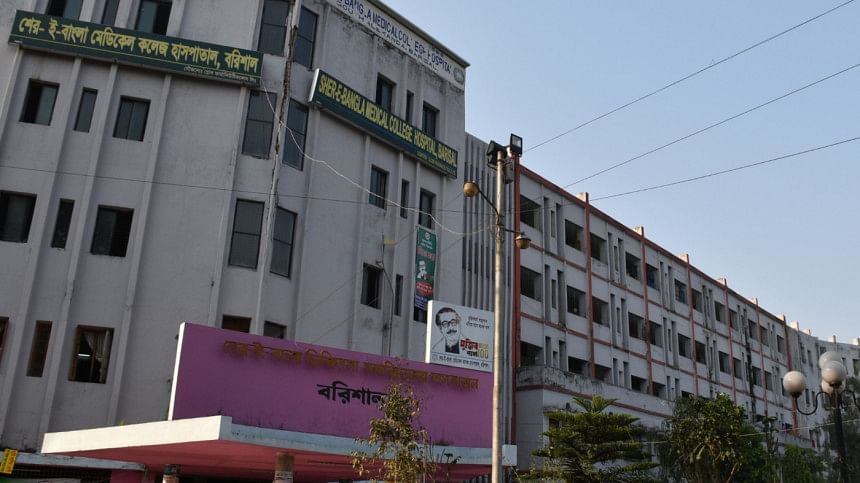 At least six journalists came under attack and a camera tripod was damaged when they went to Sher-e-Bangla Medical College in Barishal yesterday to cover alleged torture of a female student.
Shakil Mahmud, a journalist of Somoy TV, told The Daily Star that Probir Saha, superintendent of a female student hall, medicine doctor Bakibillah, and some their staffers swooped on them at the administrative building when they were talking to the female student and her mother after SBMC academic council recorded their statements.
"The accused teachers and staffers of Sher-e-Bangla Medical College attacked us with chairs. They kicked me and camera tripod of Channel 24 was damaged. At least six journalists were attacked," he said.
On Wednesday night, SBMC students brought allegations that Neelima Hossain alias Jui, a student of the 50th batch and joint general secretary of Chhatra League SBMC unit, and Fahmida Roshan alias Prabha, a student of the 7th batch of dental unit and also a BCL activist, tortured and hazed the third-year student.
The victim said the BCL leaders had been disturbing her in many ways. Her classmate tried to protect her, but to no avail.
The victim said that around 11:00pm on Wednesday, the accused called her and her classmate to Room-606 of the dorm and hurled abuse at them for informing other students about the incident.
She added that at one point, they took away their mobile phones. When she felt sick after two hours of the ordeal, she was sent to her room with another student. After returning to her room, she lost consciousness. She was later admitted to Sher-e-Bangla Medical College Hospital.
"An unexpected incident happened with journalists. We are trying to solve this issue," said SBMC Vice-Principal Nazimul Haque, who was in charge of investigating the torture of the student.
However, he termed the torture a minor incident.
This correspondent tried to reach the accused BCL leaders, Fahmida and Neelima, several times over phone and via WhatsApp for their comments, but they did not respond.