Barishal city almost cut off ahead of BNP rally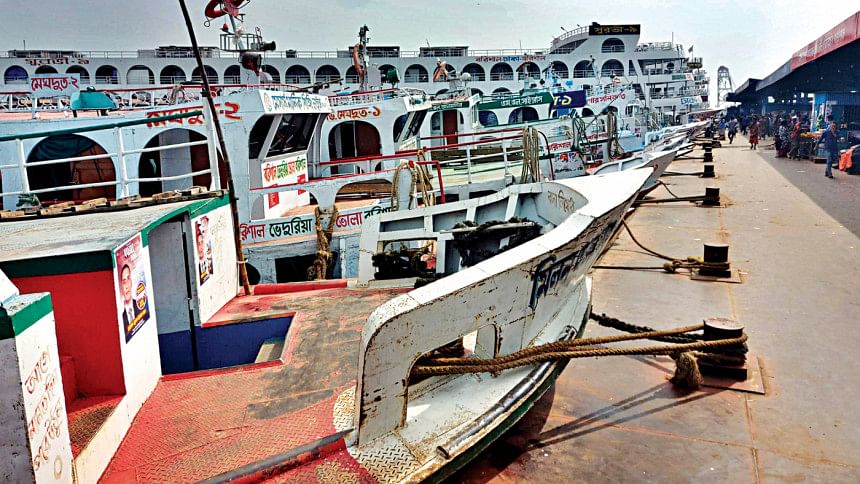 Barishal is now almost cut off from the other districts as two-day transport strikes begin today ahead of the BNP's rally in the divisional city tomorrow.
Bus owners said they enforced the strike demanding removal of unauthorised three-wheelers from roads. Transport workers of three-wheelers, however, went on strike demanding an end to harassment by bus owners.
Launch operators said vessels continued operations on Dhaka-Barishal route till last night, but the services may be suspended anytime today without any announcement beforehand.
Launch services on Barishal-Bhola route remained suspended since Wednesday night after the Awami League and BNP men clashed at Bhola's Bheduria launch terminal.
The BNP claimed a party activist suffered bullet injuries in the incident. Police, however, denied the claim.
Microbuses were also taken off roads from midnight last night for two days, Farid, a member of Microbus Drivers Association in Barishal, told journalists.
The sudden suspension of launch services on Barishal-Bhola route caused sufferings to passengers.
Anwar Hossain, a resident of Bhola town, said, "I need to get my ailing wife admitted to a hospital in Barishal city. But launches are not operating. Now we are compelled to travel by a speedboat spending additional money."
The BNP is holding rallies at the divisional headquarters to protest the price hike of essentials and fuel, recent killings of five party men in police firings in different districts, and also demanding "release" of party Chairperson Khaleda Zia.
The party has so far held four rallies in Chattogram, Mymensingh, Khulna and Rangpur. Transport strikes were called ahead of those rallies except the one in Chattogram.
The BNP alleged that the strikes were part of the AL's attempts to bar its supporters from joining the meetings.
Visiting different areas of Barishal city, The Daily Star found that the numbers of buses and three-wheelers plying the streets dropped since last evening.
"We will operate buses till midnight [last night]. Then we will suspend services on all routes to and from Barishal," said Badsha Miah, manager at the Barishal ticket counter of Green Line Paribahan.
Golam Mashreq Bablu, president of Barishal District Bus Malik Group, said lesser number of passengers travelled yesterday. Many of them were panicked.
BNP ACTIVISTS IN CITY
Many BNP leaders and activists from remote areas in nearby districts have reached Barishal city to join tomorrow's rally. They are staying at hotels and relatives' houses.
Several thousand already gathered at Bangabandhu Udyan, the meeting venue, till last evening.
"As transport strikes will begin tomorrow [today], we have come to the rally venue two days ahead. We will stay at the ground till the meeting ends," said Keramot Ali, a BNP activist from Paschim Muguria village in Barishal's Gournadi upazila.
Some party men alleged that they were intercepted and attacked by AL men on their way to Barishal city.
"Awami League men intercepted us at different places, including Fourlane and Rojopara areas along the Barishal-Patuakhali highway. They even snatched moneybags and mobile phones from some of our fellow party activists," alleged Md Salauddin, a BNP worker from Kalapara of Patuakhali.
BNP Organising Secretary Bilkis Jahan Shirin alleged that a group of AL men attacked BNP activists at Bheduria launch terminal of Bhola, leaving one injured by bullets.
Bhola Model Police Station OC Shaheen Fakir said, "Awami League men scuffled with BNP activists at Bheduria launch terminal. No incident of firing took place there. We are investigating the incident."
The AL, Chhatra League, Jubo League and Sramik League have been bringing out processions and staging rallies in Barishal city for the last three days in a show of strength.
Barishal city AL President AKM Zahangir said, "We are bringing out processions and holding rallies to make Jubo League's November 11 Golden Jubilee programme a success."
Denying the allegations of attacking BNP men, he said they were not much worried about the BNP's rally.
Meanwhile, police on Wednesday night raided a hotel in the city's Folpotti area to "check if any criminals were hiding there".
Law enforcers said they conducted the raid as part of their regular drives.
Our Patuakhali correspondent contributed to this report.