August 21 grenade attack trial a 'staged drama': Fakhrul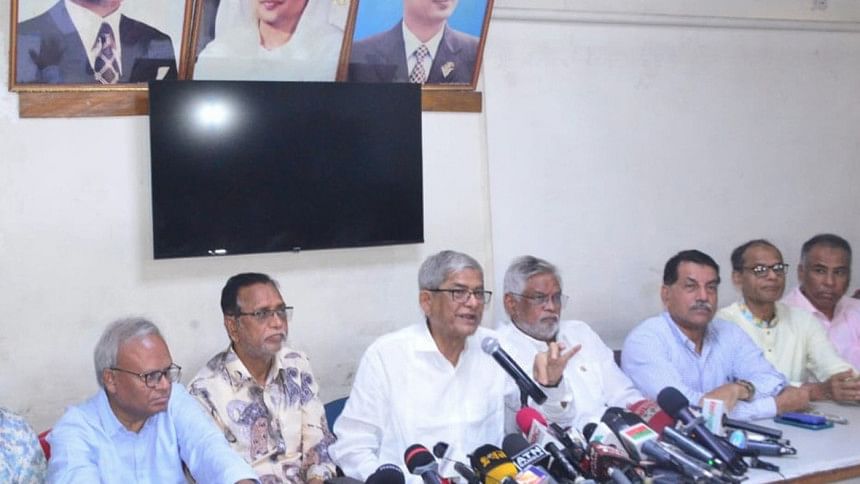 BNP Secretary General Mirza Fakhrul Islam Alamgir today said the trial process of the August 21 grenade attack case was a "staged drama" by the government.
"The trial is almost done. What's left? I would call the whole thing a staged drama," Fakhrul said at a press conference at the BNP's Nayapaltan office today.
Fakhrul said that BNP acting chairman Tarique Rahman's name was included as an accused much later, while he was never named in the initial FIRs.
"Tarique Rahman was never mentioned in the entire investigation. Mufti Hannan was made to say it after keeping him on remand for almost 145 days and then he again denied it by giving an affidavit...which was not accepted," he added.
Fakhrul further claimed that there are records to show Tarique Rahman and other BNP leaders were falsely implicated due to "political vendetta" without proper investigation.
Earlier, Fakhrul presided over a joint meeting of BNP and associated bodies to finalise programmes marking the party's founding anniversary on September 1.
On this day in 2004, a heinous grenade attack was carried out on an anti-terrorism rally organised by the Awami League at Bangabandhu Avenue.
Prime Minister Sheikh Hasina, the then leader of the opposition, was apparently the target when the BNP-Jamaat alliance government was in office.
At least 24 people, including Awami League's women affairs secretary and late President Zillur Rahman's wife Ivy Rahman, were killed. Three hundred others were also injured. Sheikh Hasina survived but suffered hearing impairment.
Following the incident, two cases were filed against 49 people with Motijheel Police Station, one for murder and another under the Explosive Substances Act.
Fourteen years later, a Dhaka court sentenced 19 people, including the then BNP government's state minister for home affairs Lutfozzaman Babar, to death in the grenade attack case.
Tarique Rahman, the eldest son of BNP chairperson Khaleda Zia and the party's current acting chairman, and 18 others were sentenced to life in prison for their involvement in the attack.