Another spell of 48-hr blockade begins today
5 buses torched in city last night; BNP claims 315 more activists detained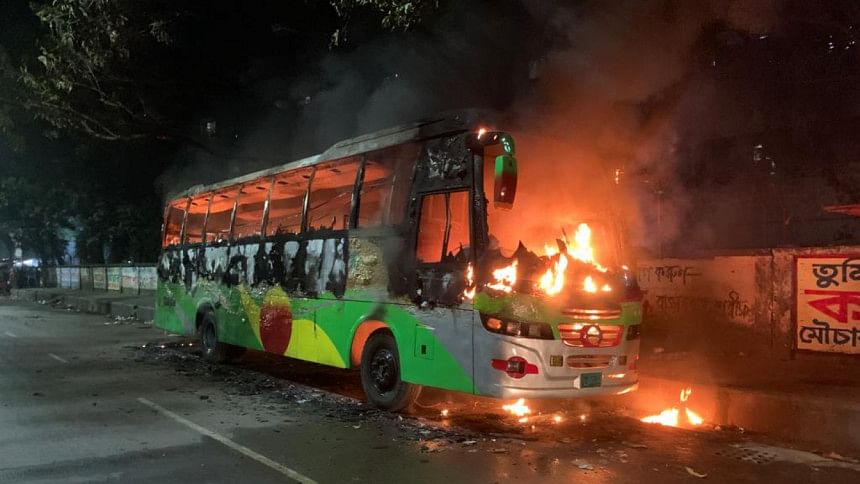 Five buses were torched in the capital last night, hours before the BNP and like-minded parties enforce a fresh two-day blockade across the country from 6:00am today.
The opposition parties, who enforced nine days of blockade in the last two weeks, called the blockade of road, rail and waterways demanding resignation of the government and general election under a non-party administration.
The BNP said at least 315 party leaders and activists were detained in 24 hours preceding 5:00pm yesterday. At least 1,370 BNP men were accused in 12 cases filed during the same period, the party's senior joint secretary general, Ruhul Kabir Rizvi, told a virtual press briefing.
At least 10,450 BNP leaders and activists have been arrested across the country over the last two weeks in 220 cases, he said.
According to Dhaka Metropolitan Police, 1,813 people were held in 131 cases filed with different police stations in the capital from October 28 to November 10.
During the same period, Rab picked up 350 people from across the country over violence and sabotage.
At least 153 vehicles were torched across the country between October 28 and November 9, according to police and firefighters.
Rizvi yesterday alleged that law enforcers turned arrests into a business.
"The biased police members have now become the employees of the Awami League Limited Company."
He said more and more cases are being filed against the BNP men every day. To avoid arrests, BNP leaders and activists are spending nights under trees and in forests.
He alleged that plainclothes men picked up three Chhatra Dal leaders, including its Government Titumir College unit Joint General Secretary Mahmudul Hasan Rafiq, on November 6, but the law enforcers were yet to admit their arrests. Their families are worried as they cannot trace the three.
Rizvi said the AL government is "going to hold another one-sided election" like the ones held in the past.
FIVE BUSES TORCHED
Five buses were set on fire by unidentified people in the capital's Gulistan, Jatrabari, Arambagh, Gabtoli and Mirpur-13 areas last night.
A Shomoy Niyontron bus was torched in front of the Sundarban Square Super Market in Gulistan around 9:00pm, said Ershad Hossain, duty officer at the Fire Service and Civil Defence headquarters.
Another bus of Anabil Paribahan was set ablaze in Jatrabari around 9:30pm, one of Lal-Sobuj Paribahan in front of Notre Dame College in Arambagh around 8:20pm, a Gabtoli Express bus near Gabtoli Bus Terminal around 8:30pm and a Projapoti Paribahan bus was torched in Mirpur-13 area around 11:30pm, Ershad added.
A passenger named Abdul Jabbar, 35, of the Anabil Paribahan bus was injured. He was admitted to Sheikh Hasina National Institute of Burn and Plastic Surgery around 10:00pm, said Bachchu Mia, in-charge of the police outpost at Dhaka Medical College Hospital.
In Joydebpur of Gazipur, a pick-up was set on fire by unidentified criminals around 9:00pm.
Meanwhile, DMP Commissioner Habibur Rahman yesterday instructed all its crime division officers, and police station OCs to remain vigilant round-the-clock to prevent any untoward incident as another 48-hour blockade beings.
"All our officers have been asked to remain vigilant so that no one can carry out any sabotage activities,"Habibur told The Daily Star in reply to a question about the security measures taken by the DMP ahead of the blockade.
"We also seek people's support to arrest arsonists and troublemakers. We have already given two people Tk 20,000 each as a reward for helping us arrest arsonists," he said.