AL's lies became clear through US embassy's statement: Fakhrul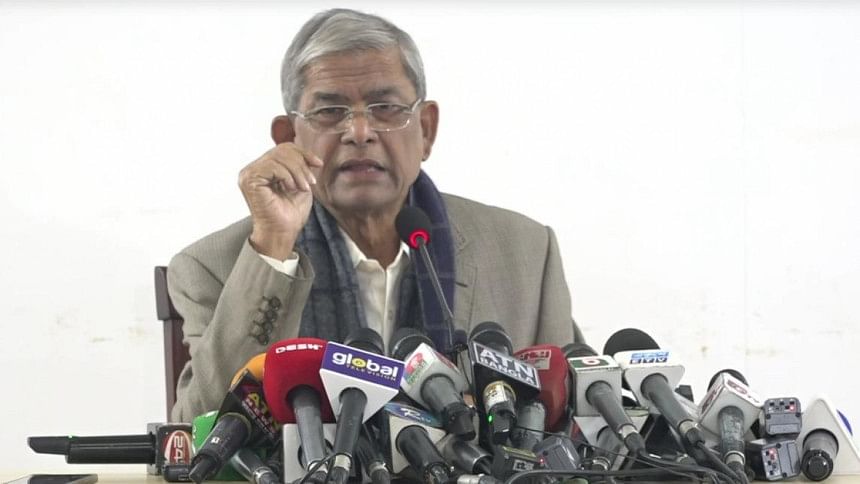 The BNP today said the government lied about the lifting of US sanctions on Rab, which became clear through the recent statement of the US embassy in Dhaka.
"The government lied about it, and it got proved through the statement of the US embassy in Dhaka. We are not happy about the sanctions... it is a matter of shame for us. Sanction should come on the government as it's the people who people gave sanctions against the government," said Mirza Fakhrul Islam Alamgir, secretary general of the party.
He came up with the remark at a press conference at the party Chairperson Khaleda Zia's Gulshan office.
Clarifying things over Home Minster Asaduzzaman Khan's comments, the US embassy on Tuesday said Assistant Secretary Donald Lu, during his visit to Dhaka, did not indicate a time frame for lifting the sanctions on Rab.
Talking to reporters at the Secretariat on Monday, the home minister said the US sanctions on Rab would be lifted soon as Lu had expressed his satisfaction over the force's recent activities.
Asked whether the BNP tried to hold a meeting with Lu, Fakhrul said, "We (BNP) did not."
The BNP leader said, "We believe that it is not possible to restore democracy in the country depending on the foreign power. People of the country have woken up against the government."
Fakhrul said it is noticeable that the US expressed its firm stance on democracy and commented on the free, fair, and inclusive election.
Criticising the ruling Awami League for announcing programmes on the day of BNP's programme, the BNP leader said, "If any untoward situation arises, Awami League will be held responsible for that."
Fakhrul urged the Awami League not to announce any event on the day of BNP's programme.
The BNP leader also said surveillance equipment was purchased from Israel just to repress the opposition party. "We found such news published in local and international media. It is a matter of grave concern."
Expressing deep concern over the cases filed under the Digital Security Act, Fakhrul said in the last four years, a total of 1,209 cases have been filed.
He demanded immediate release of the arrestees and annulment of the Digital Security Act.