AL to prepare election manifesto considering reality: Quader
Important points must be brought out with bullet points, he says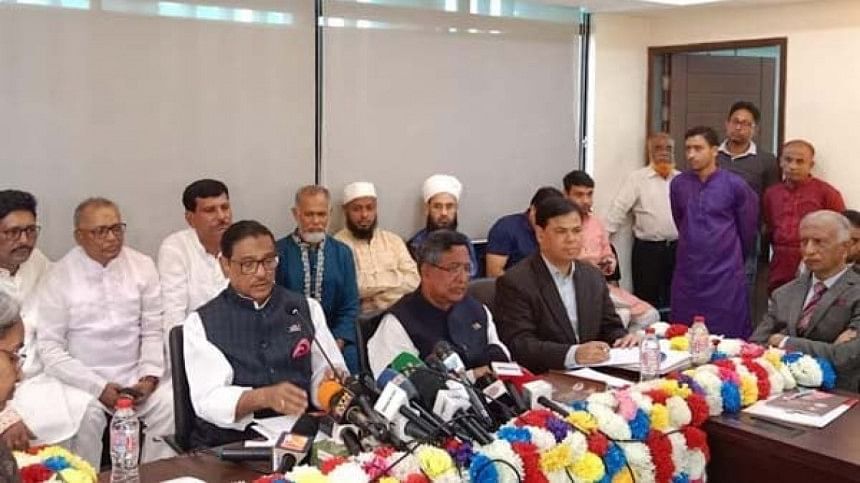 Awami League General Secretary Obaidul Quader today said their party's manifesto for the next general elections will be prepared in light of the reality and the present context.
"How many people read the election manifesto? It should be formulated considering that. Important points must be brought out with bullet points. No one has time to read huge books. The challenges of reality have to be overcome with time," he said.
Quader, the road transport and bridges minister, made the remarks while speaking at the first meeting of AL's Election Manifesto Formulation Committee at the party's Bangabandhu Avenue central office in the capital this morning.
"We should walk in line with reality. Tough challenges lie ahead. There is no need for a big manifesto ... because people have less time to read more words. Election manifesto should be prepared in a few words," he said.
The AL general secretary said the ruling party also has to go into action when such a manifesto should be announced.
"Adverse impacts of climate change should be considered too. We should also consider the country's transition to a developing one in 2026. After all, we have to keep the year 2040 in mind. Digital Bangladesh has been built and now we need to build smart Bangladesh," he added.
Quader said BNP threatened that it would topple the government within a few days but the AL government will remain in power.
"Why will we quit? Why would we restore the caretaker government system? Why would Sheikh Hasina resign? People want her and there is no alternative to her," he said.
Responding to a question over the polls-time cabinet, the minister said Prime Minister Sheikh Hasina would decide it as it is the jurisdiction of the premier.
He said the election-time government will only do routine works and it will not take major policies. "This is nothing new. The government will perform its routine duties like in other democratic countries of the world," he said.
AL presidium member and convener of the manifesto formulation committee Abdur Razzaque said the issue of establishing the rule of law will be given importance in the next election manifesto.
Chaired by Abdur Razzaque, the meeting was attended, among others, by AL Information and Research Secretary and Member Secretary of manifesto formulation committee Salim Mahmud and former vice-chancellor of Dhaka University Prof AASM Arefin Siddique.