AL nominates Shahabuddin as presidential candidate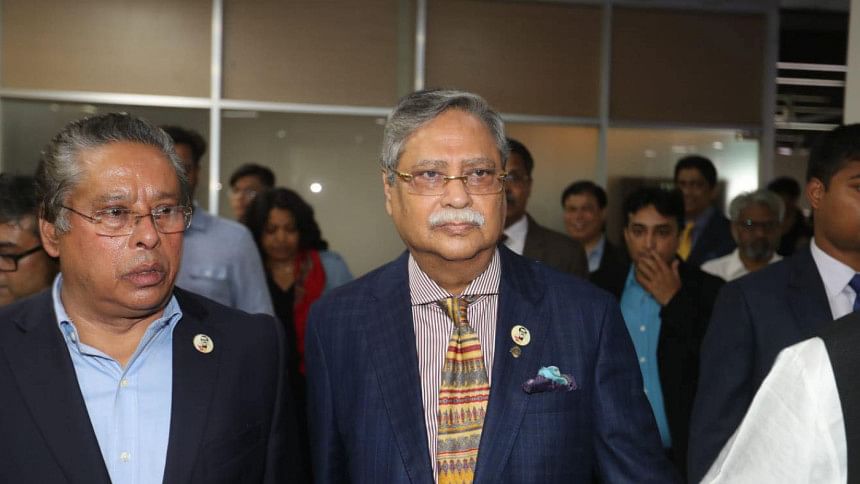 The ruling Awami League today nominated former ACC commissioner and freedom fighter Mohammed Shahabuddin as the party's presidential candidate.
An AL delegation, led by the party's General Secretary Obaidul Quader, submitted the nomination papers at the Election Commission this morning.
Quader, also the road transport and bridges minister, informed reporters about the development after submitting the papers.
The ruling party's nominee will be the next president of the country as no other political party which has representation in the parliament is going to propose any name for the presidential election, and the ruling party has a brute majority in the parliament.
Out of 350 parliamentary seats, the AL currently has 302, while main opposition Jatiya Party has 26. The Workers Party has four seats; Jatiya Samajtantrik Dal, Bikalpa Dhara Bangladesh and Gono Forum have two each; Bangladesh Tarikat Federation and Jatiya Party (Manju) have a single seat each; and three remaining seats are occupied by independents.
Shahabuddin was also with the delegation team. After the nomination was filed he said that he has no immediate reaction.
"Everything was done in line with Almightily Allah's will," he said.
The last time for submission of nominations is till 4:00pm today. If none other than Shahabuddin is nominated till then, the Election commission will be able to announce him as the president elect if his nomination papers are found to be valid following scrutiny of forms tomorrow, EC officails said.
The presidential election is scheduled for February 19, but it will take place only if there is more than one candidate.  
Although the post of the president is mostly ceremonial -- they are to act as per the advice of the prime minister, except when appointing the premier and the chief justice -- it takes on some significance during polls-time given his say in issuing directives to help the Election Commission function effectively.
According to section 5 (2) of the Representation of the People's Order, 1972, all executive authorities of the government shall assist the EC in the performance of its functions, and for this purpose, the president may, after consultation with the commission, issue such directions as they may deem necessary.
The tenure of Hamid, the longest serving president of the country, will expire on April 23, and according to the constitution, there is no scope for his re-election.
Article 50 (2) of the constitution reads that no person shall hold office as president for more than two terms, whether or not the terms are consecutive.
Hamid was appointed acting president of Bangladesh on March 14, 2013, while then president Zillur Rahman was in hospital in Singapore. Zillur died six days later.
Hamid was then elected unopposed as president on April 22, 2013, and was sworn into office two days later. On February 7, 2018, he was re-elected unopposed for a second term.