AL men 'on guard' for Dec 10 BNP rally
Ruling party men take position in different areas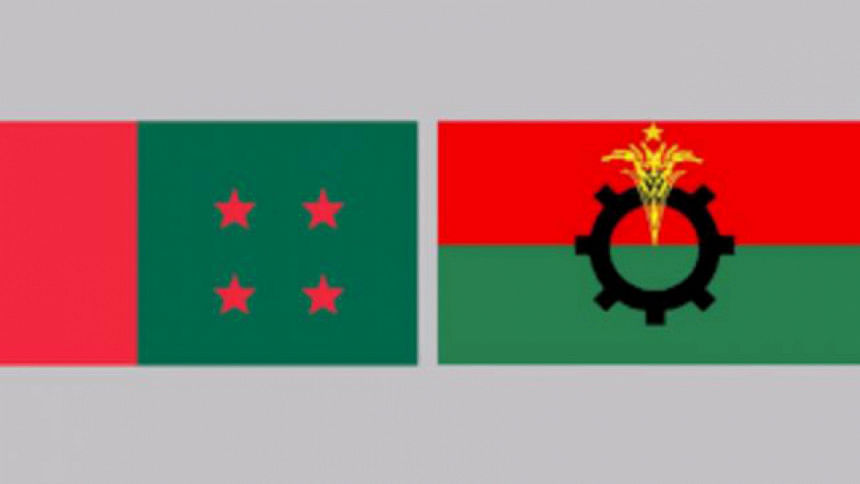 Leaders and activists of the ruling Awami League have started to take position in different areas of the capital, in the name of "vigilant guard", ahead of the BNP's December 10 rally.
AL men were seen in many places, including Gulistan Bangabandhu Avenue, Dhanmondi-32, Kathalbagan, Russel Square, Dholaikhal, Rothkhola intersection, Sadarghat, Muktangon [Paltan intersection], and Motijheel.
They were chanting slogans against the BNP.
Jatrabari AL brought out a procession in the evening in Paltan and Bijoynagar areas, protesting the "BNP's anarchy"
Activists of the ruling party and its different associate bodies also brought out rallies in Kalyanpur, Paikpara, Mirpur-14, and Dhamrai.
According to party sources, AL men of Dhaka Metropolitan south and north units, and Dhaka district were instructed to guard the entry points and prevent the BNP workers from coming into Dhaka.
Speaking to The Daily Star , Riaz Uddin, office secretary of Dhaka Metropolitan South AL, said, "We have already instructed all the leaders and activists of all the 75 units in the capital to remain alert and take position on the streets and in alleys. Our leaders have already done so in the Jatrabari, Dholaikhal, and Sadarghat areas and will be on guard till December 10 night.
"If they [BNP] hold their rally without disrupting public life, then we will remain silent. But, if they vandalise vehicles or cause damage to public property, we will not spare them."
Sources said the Dhaka Metropolitan South AL is scheduled to hold a rally on Friday near the Baitul Mukarram National Mosque. A section of the activists there will remain on the street till the December 10 rally to observe the rival party's movement.
The Dhaka Metropolitan North unit AL will hold a rally on the trade fair grounds in Agargaon on December 13.
AL men are conducting rallies, and holding meetings and other programmes in different wards almost every day.
Sources of the Metropolitan North Awami League say that their main responsibility guard the entryways to ensure that BNP activists cannot come to the rally through Tongi, Ashulia and Gabtoli.
Addressing the triennial conference of Noakhali district AL, Obaidul Quader, the party's general secretary, said their activists will remain vigilant in all cities, districts, upazilas, unions, wards, alleys and villages of the country on December 10.