AL Men in Casino Business: Back into action in party politics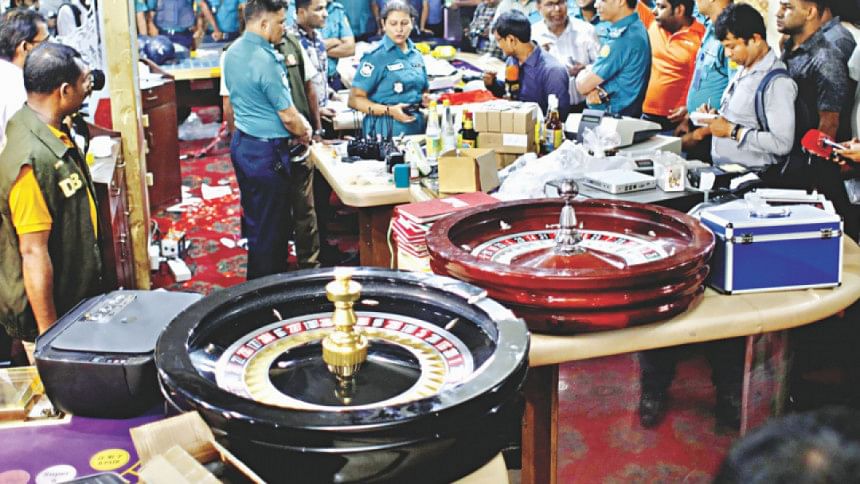 A section of leaders of the Awami League and its associate bodies, whose names came up in the investigation of illegal casino business, seem to have become active in politics again ahead of the next general election.
Although they are yet to be reinstated to their previous political posts, they are carrying out political activities secretly and lobbying top AL leaders to regain their ground in politics.
The government on September 18, 2019, launched the much-talked about crackdown on gambling, extortion, land grabbing, and some other forms of corruption with raids at five sporting clubs.
After a series of raids, more than 250 people, including at least 11 leaders of different organisations affiliated with the ruling AL, were arrested.
During the anti-casino drive, names of then Jubo League chairman Omar Farooq Chowdhury and Swecchasebak League president Molla Md Abu Kausar came up as the main patrons of those directly involved in the casino business.
The two were later relieved of their party posts.
AL sources said Omar Farooq is now inactive in politics while Abu Kausar is seen occasionally at the AL chief's Dhanmondi political office.
On the first day of the drive, Rab arrested Dhaka South City Jubo League's then organising secretary Khaled Mahmud Bhuiyan for running a "casino" at a football club in the capital's Fakirerpool.
Later, allegations surfaced that the president of the Jubo League's same unit, Ismail Hossain Chowdhury Samrat, was behind the casino business in Dhaka.
Samrat was also arrested on October 6, 2019. The two were expelled from the organisation.
Samrat walked out of jail on bail in August last year while Khaled was released in September, but none of them were reinstated to their political posts.
After being granted bail by the Supreme Court on August 22 last year, Samrat made a show of strength as he along with several thousand Jubo League activists placed a wreath at the portrait of Bangabandhu Sheikh Mujibur Rahman on Road-32 in the capital's Dhanmondi.
Party insiders said Samrat also tried to announce his presence by sending his followers to the Jubo League's Golden Jubilee (founding anniversary) programme.
Khaled has also become active lately to get back his control over Jubo League politics in Motijheel-Kamalapur area, the insiders added.
AKM Mominul Haque Sayeed, former councillor of ward-9 of Dhaka South City Corporation, and then joint general secretary of Dhaka City (South) Jubo League, allegedly ran an illegal casino business at the Wanderers Club in Motijheel.
Mominul fled abroad after raids on some sporting clubs in Motijheel began in September of 2019.
He was also removed from the post of ward councillor for being "absent in meetings and staying abroad without permission".
Mominul returned home in January this year, and was made the general secretary of Bangladesh Hockey Federation.
During the crackdown, two brothers Enamul Haque Bhuiyan alias Enu and Rupon Bhuiyan, leaders of Gendaria Thana AL, were arrested for their involvement in casino business.
Law enforcers recovered Tk 32 crore from their house in Gendaria. Investigators said the siblings own 22 houses and plots in the capital and five cars. They had Tk 19.11 crore in 91 bank accounts which were frozen by the Bangladesh Bank.
However, sources in Dhaka city AL said that a person loyal to the duo was made a top leader of the Dhaka City (South) Awami League. The Gendaria Thana AL leaders, who were allies of the siblings, are still holding their posts.
A section of AL leaders opined that since the expelled or relieved leaders did not lose their primary memberships in their respective organisations, there was no bar for them to get involved in politics again.
However, some other leaders said removal of controversial leaders didn't weaken the party and that's why there was no need to get them reinstated.
"We are following Prime Minister Sheikh Hasina's instruction that no controversial person will have any place in any tier of the organisation. There is no bar for anyone to engage in politics, but including them [controversial leaders] in committees would mean giving them recognition. That will not happen," Mainul Hossain Khan Nikhil, general secretary of Jubo League, told The Daily Star.
Meanwhile, Transparency International Bangladesh yesterday expressed grave concern over the reports on reinstatement of political leaders who were accused of being involved in casino scandal, and were subsequently relieved of party posts following the anti-casino drive.
Referring to reports run by the media, TIB Executive Director Iftekharuzzaman said, "What message do the government and the ruling party want to give to the countrymen? No matter whatever crime is committed, will the offender be able to get away with it if he is associated with the ruling party? The government and the ruling coalition must take the responsibility to counter this evil process of institutionalising muscle power and corruption in the political arena," reads a statement issued by TIB.