8 special trains carry AL activists to Rajshahi rally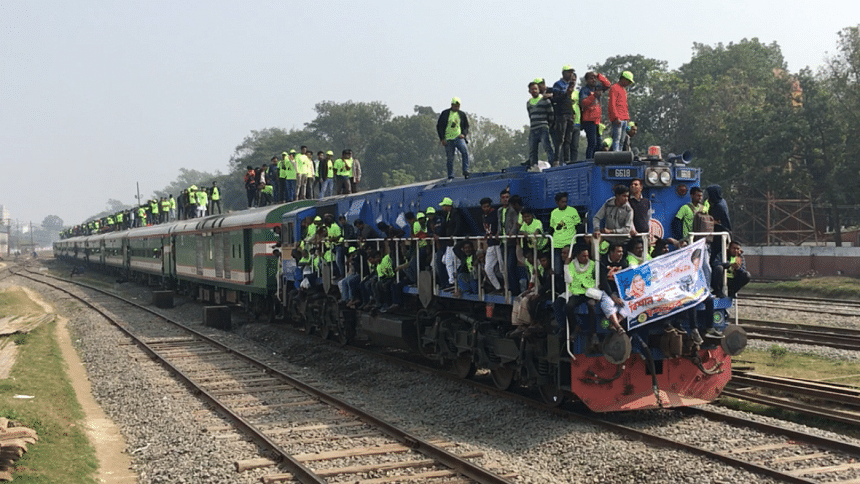 Over 10,000 AL men went to Rajshahi city on eight special trains hired from the railway authorities.
All the special trains have reached Rajshahi station and the last to reach was from Panchbibi which arrived in Rajshahi at 2:15pm, reports our Rajshahi staff correspondent. 
The trains being operated from separate rail stations in Rajshahi division left their respective stations between 7:30am and 11:30am to reach Rajshahi station on the occasion of Prime Minister Sheikh Hasina's first rally in Rajshahi in five years, our Pabna correspondent reports quoting Md Anwar Hossain, Pakshey divisional transportation officer (DTO).
"There has been no change in regular train schedules as the special trains are running during intervals of regular service. However, there have been some delays in the train service," the DTO said.
Railway sources said one train each left Chapainawabganj, Rohonpur, Sirajganj, Ishwardi, Shantahar, Arani, Natore and Panchbibi stations for Rajshahi this morning.
Talking to The Daily Star, Md Nasir Uddin, Pakshey divisional commercial officer said over 10,000 people are travelling to the Rajshahi rally by eight special trains.
"We have approximately earned Tk 14 lakh revenue through this special arrangement," the DCO said.
On January 21 when this newspaper first came to know about Bangladesh Railway renting special trains to local Awami League leaders, it contacted, Quamrul Ahsan, director general of Bangladesh Railway.
Asked whether trains could be rented out for a political event, Quamrul said, "Yes, trains can be rented. There are previous instances. A few days ago, a train was rented to an organisation.
"The trains will be rented subject to availability and payment," he had told the newspaper.
Some rail officials said this is the first time BR rented out trains to political party leaders.