3 Zilla parishad polls: 2 ministers, 3 MPs blamed for defeat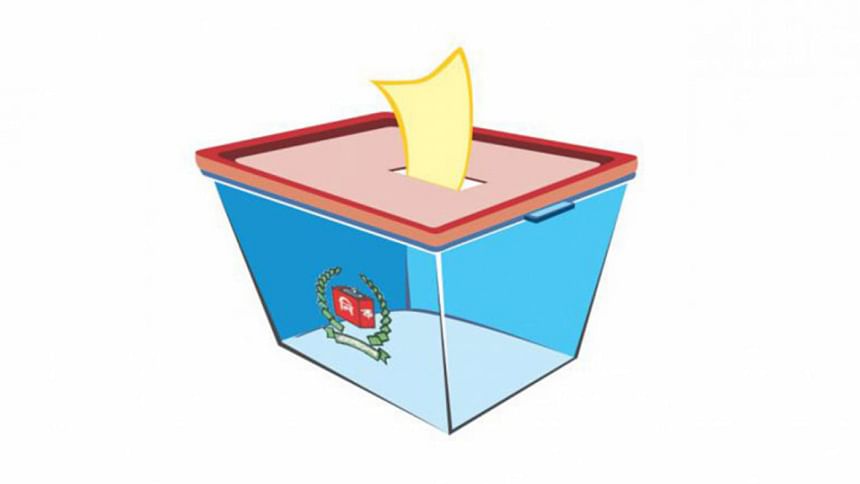 Two ministers, three MPs and an Awami League central committee member have been accused of backing party rebels in the zilla parishad polls, which led to the defeat of three AL-sponsored chairman candidates.
The names of the two lawmakers and a minister came up in the organisational report for Dhaka division, placed before the AL Central Working Committee meeting on Friday, said sources.
Party President Sheikh Hasina presided over the meeting at the Gono Bhaban.
Mirza Azam, organising secretary for Dhaka division AL, placed the report that held three MPs and one minister responsible for the party-backed candidates' defeat in Narsingdi and Faridpur, meeting sources confirmed to The Daily Star.
According to the report, Industries Minister Nurul Majid Mahmud Humayun, also lawmaker from Narsingdi-4; Rajiuddin Ahmed Raju, MP of Narsingdi-5; and Muhammad Nazrul Islam, MP from Narsingdi-1, were responsible for the defeat of Abdul Matin Bhuiyan in the Narasingdi zilla parishad polls, said sources.
Meanwhile, the defeat of the AL candidates in Sunamganj and Faridpur also came up at the meeting.
Planning Minister MA Mannan, also MP from Sunamganj-3, was held responsible for backing party dissident Nurul Huda Mukut, while AL central committee member Azizus Samad Azad Don was accused of staying inactive, sources said.
In the polls, Mukut defeated AL candidate Khairul Kabir Rumel, vice-president of Sunamganj district AL. He is elder brother of Enamul Kabir Emon, also general secretary of the district AL. Mukut had also defeated Emon in the first zilla parishad polls in 2016.
The meeting held Mojibur Rahman Nixon, Jubo League presidium member, who won from Faridpur-4 as a party dissident, responsible for AL's defeat in Faridpur.
He backed Shahadat Hossain, also a central Jubo League leader, for the chairman post there. Shahadat won against AL-sponsored candidate Faruk Hossain.
Central committee members at the meeting blasted some party leaders for supporting the rebels and sought the AL president's directives to this end.
However, Hasina has remained quiet in this regard so far, sources said.
The ruling AL-backed chairman candidates lost in the zilla parishad polls in 11 districts, which were held on October 17, while they won the chairman posts in 48 out of 61 zilla parishads. Of them, 27 AL candidates were elected unopposed.