25 injured as AL men attack rally in Patuakhali, BNP says
30 injured in BNP-police clash in Savar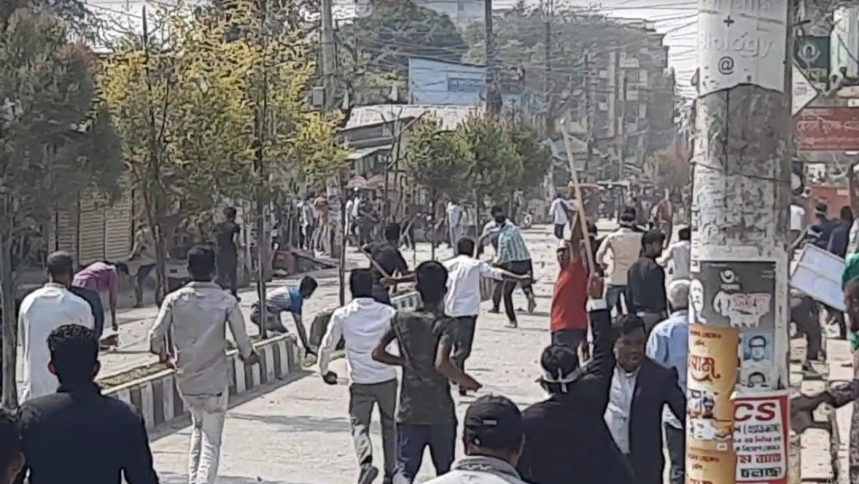 At least 25 were injured when ruling party men allegedly attacked BNP men, who were holding a scheduled programme in Patuakhali -- protesting the price hike of daily essentials, Patuakhali BNP Member Secretary, Snehangshu Sarkar Kutty, alleged. 
The attack took place around 10:30am today in front of the district BNP office on College Road in Patuakhali town, reports our local correspondent.
The injured have undergone treatment locally. Among the injured were Sadar upazila BNP president Kazi Mahbub and Chhatra Dal's district unit president Shafiur Rahman Ujjol, Snehangshu said.  
Snehangshu added, "We strongly condemn this attack."
Eyewitnesses said that AL men arrived at the venue and started vandalising before the rally began. Leaders and activists of BNP attempted to resist at one point during the attack, and the two sides clashed. Police charged baton, tear shells to disperse them and bring the situation under control.
Meanwhile, General Secretary of Patuakhali district unit of Awami League, Abdul Mannan, said, "Awami League has nothing to do with this attack. This is a result of BNP's internal conflict. BNP has no public support, it has no leadership. That's why they're making these accusations now."
In Savar, at least 30 people were injured in a clash between police and BNP men during a rally organised by the party protesting the price hike of daily necessities and demanding Khaleda Zia's release.
Around 11am today, Dhaka district BNP held a rally in front former BNP MP Dr Dewan Mohammad Salahuddin's residence, reports our Savar correspondent.
After the rally, they formed a protest procession and marched to Dhaka-Aricha highway, where they were stopped by police. At that time, a clash took place.
Kazi Mainul Islam, officer-in-charge of Savar Model Police Station, said that a Sub-Inspector and a constable were injured in the clash. Two BNP activists have also been detained.
In Munshiganj, leaders and activists of BNP held similar protests in Muktarpur Old Ferry Ghat area of ​​Sadar upazila ignoring police obstruction, reports our local correspondent.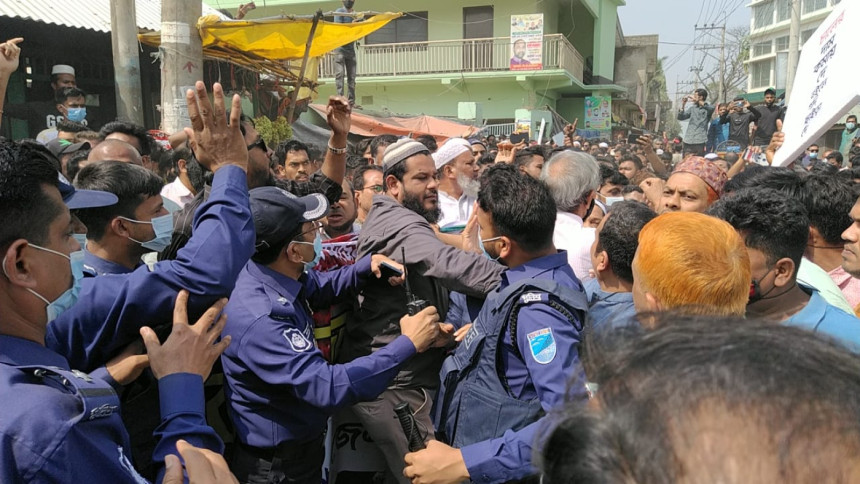 General Secretary of Munshiganj district unit of BNP, Md Kamruzzaman Ratan, said, "Despite police obstruction, the programme was successfully completed with the presence of hundreds of leaders and activists. Police have been searching the homes of BNP leaders and activists for the past three days and harassing them."
Md Abu Bakkar Siddique, officer-in-charge of Munshiganj Sadar Police Station, said, "There was no permission for BNP's programme. Police have ensured that public is safe and that the movement of vehicles is not disrupted."