Buying the first bus ticket to cross Padma Bridge from Shariatpur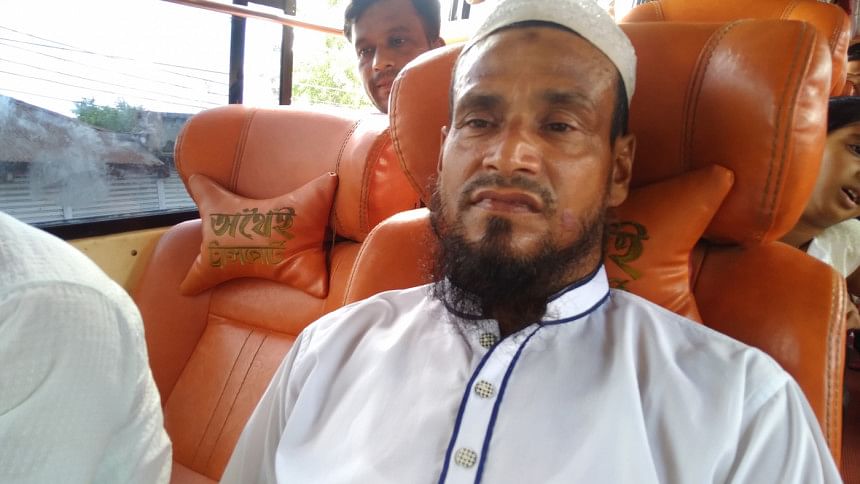 Rafiq Islam (45) works at an electric shop in Dhaka. His village home is in Angaria union of Shariatpur Sadar upazila. He bought the first bus ticket from Shariatpur to cross the Padma Bridge and became a part of the nation's road communication history.
Rafiq woke up early today (June 26, 2022) and reached Shariatpur bus stand around 6am. He bought the ticket for Tk 250 at around 6:30am, Rafiq said.
He was excited that he would cross the Padma Bridge today on his way to Dhaka – to join work.
A visibly ecstatic Rafiq said, "I have been wanting to see the Padma Bridge up close for long. I came to the bus stand around 5:00am. I can't tell you how excited I am!"
"Until now, I couldn't visit my village home in Shariatpur when I wanted to. When my grandmother died, I reached Mawa ghat from Dhaka that day. I didn't find any boat or launch. I sat at the Mawa ghat for hours. Padma Bridge did not exist then."
"By the time I reached home in Shariatpur, my grandmother was already buried. Had Padma Bridge existed back then, I could have seen my grandmother one last time," he said.
Md Farooq Talukdar, president of Shariatpur Bus Owners' Association, said that in total 15 buses left Shariatpur bus stand for Dhaka since 8am today. Thousands of passengers are still waiting for buses there. 
"We could not add more buses as those did not have necessary documents and we could not colour the vehicles because of the rain. I hope, we will be able to get more buses on this route before Eid-ul-Azha," he added.