Unsung Women Nation Builders Award winner Mohua dies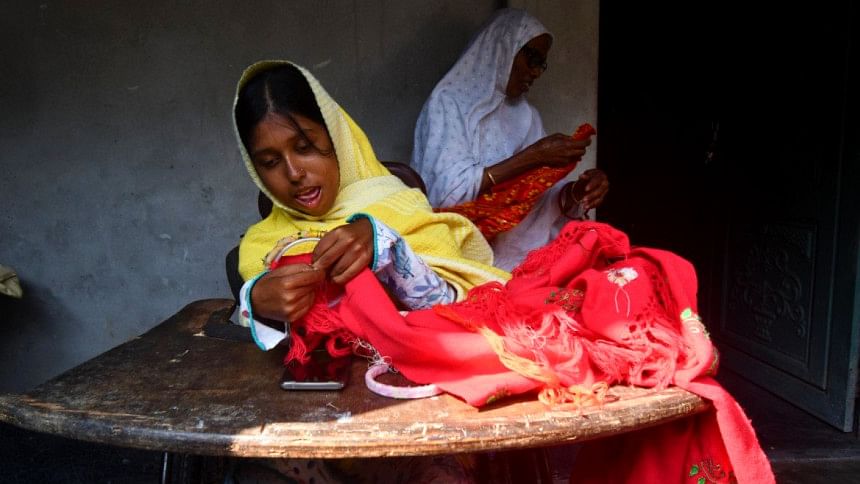 Zannatul Ferdous Mohua, a winner of "Unsung Women Nation Builders Awards", an initiative of The Daily Star and IPDC, passed away yesterday (August 14, 2022). She was 25.
Mohua breathed her last at home at Sanka village in Bogura's Sherpur upazila around 10am, our Bogura correspondent reports quoting her aunt Sarjina Akter.
Sarjina said Mohua had been suffering from breathing problems since last year. "This (yesterday) morning, she faced breathing problems and died before she could be taken to the hospital."
One such force of nature was Zannatul Ferdous Mohua, who was unable to walk, move her hands, or speak clearly from birth. She beat all odds to become a successful entrepreneur, employing 35 women in Bogura's Sherpur upazila.
Through her Facebook page "Rainbow", she sold hand-embroidered products like sarees, cushions and bedcovers. People from more than 18 countries buy her items, yielding her about Tk 60,000 a month.
Mohua was a master's student in English department at the Bogura Government Azizul Haque College.
For her extraordinary effort and achievements, Mohua won the "Unsung Women Nation Builder Awards" with other six fighters on May 27, 2022.
Her future dream was to open a showroom in Dhaka and another workshop for physically challenged people like herself.
Mohua left behind her mother and two brothers to mourn her death. Her body will be taken to her village home in Pabna's Kashinathpur for burial, said her family members.