A songsmith extraordinaire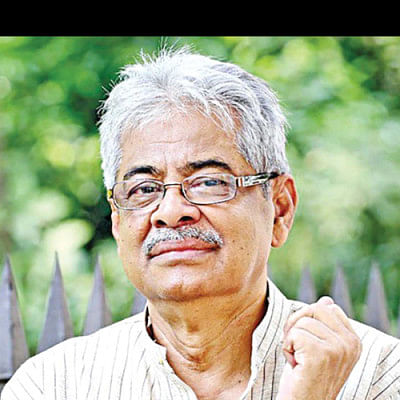 "Joy Bangla, Banglar Joy."
These words have resonated and are still resonating in the hearts of the Bangalees since the birth of Bangladesh. Perhaps, even earlier.
These words came from none other than Gazi Mazharul Anwar, 79, who passed away early yesterday at a city hospital.
Shahan Mirza, his daughter-in-law, said he had been suffering from acid reflux for the past few days and collapsed on his way to the washroom yesterday morning before being taken to hospital.
His sudden demise has left a massive void in the country's cultural arena, which is graced by his tireless work for over six decades.
Celebrities and noted singers have penned heartfelt messages on social media, paying tribute to the extraordinary life of Gazi Mazharul Anwar.
Dhallywood superstars Shakib Khan, Sucharita, Bappa Raj, Ananta Jalil and Barsha Jalil, among others, rushed to the hospital upon learning about his death.
Born in 1943 in Cumilla's Taleshwar village, Mazharul Anwar started writing for Radio Pakistan in 1964. For almost six decades, he penned, through his songs, stories of patriotism, war, love and sacrifice.
His work in Bangla cinema began with the film "Ayna O Oboshishto" by legendary director Subhash Dutta. His lyrics for the song "Akasher Haate Achhe Ekrash Neel" is an all-time classic.
On his 78th birthday, Mazharul Anwar published a book, "Olpo Kothar Golpo Gaan" in 2021, which featured 200 of his songs.
"I have led a happy and content life. I have no regrets," Anwar said, in his last interview with The Daily Star in 2021. 
"I have been writing for over five decades and won numerous awards, including the Ekushey Padak, National Film Award, and President's Gold Medal. I didn't work for such prizes, but receiving them always inspired me to work better."
Gazi Mazharul Anwar also received the Swadhinata Padak last year.
Some of his masterpieces are "Achhen Amar Moktar", "Ektara Tui Desh Er Kotha Bol Re Ebar Bol", "Ganer Khatay Swaralipi Likhe", "Shudhu Gaan Geye Porichoy", "Ei Mon Tomake Dilam", "Chokher Nojor Emni Koira", among countless others.
His body will be taken to the Central Shaheed Minar at 11:00am today for final respects.
It will then be taken to the Bangladesh Film Development Corporation, where his first namaz-e-janaza will take place.
His second namaz-e-janaza will take place at the Banani Graveyard, after which he will be laid to rest in the same place where his mother was.
Gazi Mazharul Anwar is survived by his son and his daughter, also a talented singer.