Nazmul Huda passes away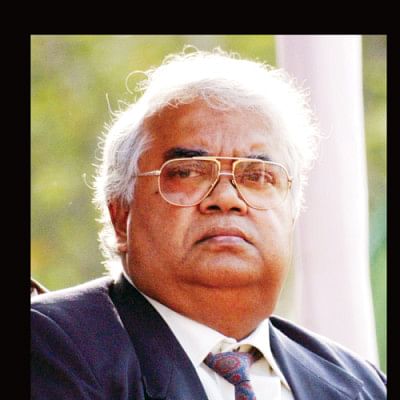 Former BNP leader and minister Barrister Nazmul Huda died at a city hospital last night.
He was 80.
Akkas Ali Khan, secretary general of Trinamool BNP, Huda's new party which got registration a few days ago, confirmed that the expelled BNP leader breathed his last at the Square Hospital at 10:25pm.
Born in 1943, Huda was elected lawmaker from Dhaka-1 (Dohar-Nawabganj) constituency four times with BNP ticket. He served as information minister during 1991-1996 and then communications minister during 2001-2006.
Huda, one of the founding members of the BNP, was a vice-chairman of the party before being expelled in 2012.
He started his political career with Jagodal, founded by late president Ziaur Rahman in 1977.
He was also a former president of the Supreme Court Bar Association.
After his expulsion from the BNP, Huda formed Bangladesh Nationalist Front, but was ousted from the party within a few months.
Then he established Bangladesh National Alliance (BNA) in May 2014 and Bangladesh Manabadhikar Party in November of the same year. In November 2015, he founded another political party named Trinamool BNP.
Huda, as the head of an alliance of 31 parties, joined the ruling Awami League-led 14-party combine in January 2016.
He contested the 2018 national election as a BNA candidate from Dhaka-17 constituency but was defeated.
Huda was accused of corruption by the Anti-Corruption Commission during the army-backed last caretaker government.
Huda was suffering from various health complications, including high blood pressure. He was admitted to Square Hospital after a heart attack on Friday, reports the Prothom Alo, quoting family members.
The veteran politician left behind his wife Sigma Huda, two daughters Antora Salima Huda and Srabonti Ameena Huda and a host of well wishers and friends to mourn his death.