Mubasshar no more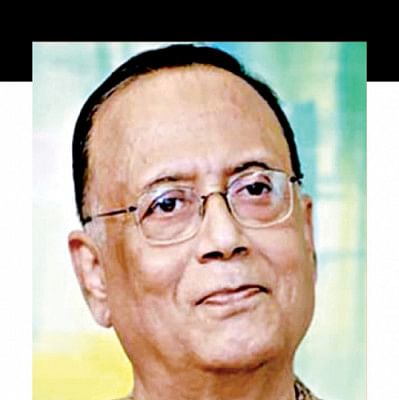 Valiant freedom fighter Mubasshar Hussain, a pioneer in the country's architecture industry, breathed his last in a hospital in Dhaka early yesterday.
He was 79.
Relentless in his pursuit of a modern and livable Dhaka, Mubasshar was always vocal on issues relating to civil rights and the environment.
He was an active organiser in the sports arena and a philanthropist who would always stand by those in dire need of help.
After undergoing treatment at the ICU of Bangladesh Specialized Hospital for two months, Mubasshar passed away around 1:30am, said Iqbal Habib, joint secretary of Bangladesh Poribesh Andolon.
His first namaz-e-janaza was held at the Institute of Architects Bangladesh after Zuhr prayers, and the second on the Brothers Union Club field after Asr prayers, he said.
His body has been kept at the hospital mortuary, from where it will be taken to his village home in Brahmanbaria today.
"After a namaz-e-janaza at his village, his body will either be handed over to BSMMU in the capital as per his last wish or will be buried following his family's decision. This will be decided tomorrow [Tuesday]," he added.
Born on December 27, 1943, in Brahmanbaria, Mubasshar graduated from Bangladesh University of Engineering and Technology in 1972.
Joining the Liberation War at a young age, he was known to have fought valiantly and even took part in the guerrilla operations inside the capital.
In his professional life, Mubasshar was the managing director of Assoconsult Ltd, an architectural practice which designed prominent edifices like the Grameen Bank Bhaban and the Proshika headquarters.
He was also the managing director of Neer Ltd, a real estate business and the chairperson of Global Insurance Co Ltd. He played the role of adviser in many organisations, including Bishwo Shahittyo Kendro, Grameen Telecom Trust etc.
Both the mayors of Dhaka city expressed profound sorrow at Mubasshar's passing.
In his condolence message, Dhaka South city Mayor Sheikh Fazle Noor Taposh said, "The heroic freedom fighter Architect Mubasshar was a strong voice for well-planned urbanisation. He played an incomparable role in making Dhaka a modern and livable city.
"He was our national treasure. With his death, the nation has lost a great son. He will always be a shining light in our hearts...."
DNCC Mayor Md Atiqul Islam said, "Architect Mubasshar has left an outstanding contribution to the architecture industry of the country. He was a proud son of the nation. He enriched the art of architecture with his talent and thought ..."
Mubasshar was elected president of Institute of Architects Bangladesh for five terms and was known for his fight for a well-planned Dhaka city. He also served as president of both the Commonwealth Association of Architects and the Architects Regional Council of Asia.
An active organiser in the sports arena, he was a former director of the Bangladesh Cricket Board and worked as the president of the Brothers Union Club. He was also the founding Convener of Sammilito Krira Poribar.
Mubasshar served as the vice president of Bangladesh Poribesh Andolon and Consumer Association of Bangladesh.
He was featured frequently as a guest in television talk shows, where he spoke his mind without trepidation and with rationality.