Rana Plaza Tragedy: Years pass by, but trauma still remains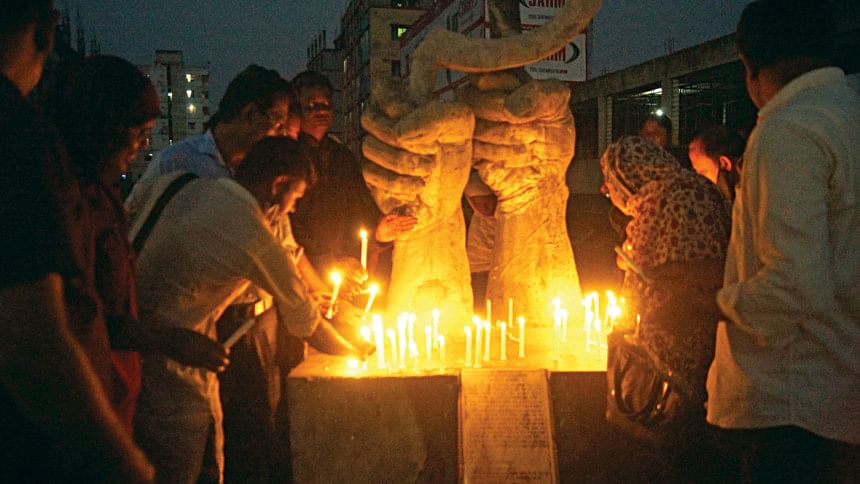 Nine years have passed since the collapse of Rana Plaza, and yet majority of the survivors are still reeling from the traumas, both physical and mental, of that fateful day.
Although some survivors have gotten their simple lives back, the bulk of them are facing hardship every day, due to losing their ability to work or mental distress.
Rupali Begum, a survivor who worked on the building's fifth floor, was rescued a day after the incident. She had injured her head, back, arms and legs. After a long period of treatment at several hospitals, Rupali can finally move and work at home, she told The Daily Star.
"I'm still not fit for factory work, as I'm still traumatised," said Rupali, mother of two children. "My husband can't manage the living costs of our four-member family. We're struggling."
Nilufar Begum, who worked on the fourth floor, told The Daily Star that she had injured her head and backbone during the incident. Although she got free treatment for some years, Nilufar is yet to fully recover. "I couldn't return to factory work because of my condition."
"I had gotten some money through bKash from BGMEA after the incident, but did not get compensation. My head needs an operation, but I can't go through with it due to my financial crisis," said Nilufar, a mother of two school-going daughters.
"My construction-worker husband can't even arrange our daily essentials. Then how will he manage my treatment cost? I need financial support," she said. "My two daughters are very talented students, but I'm worried about how I'll continue their education."
After Rana Plaza collapsed on April 24, 2013, survivors, victims' family members, and several rights organisations, had held several programmes with several demands, including Tk 48 lakh compensation for each of those affected in the incident, rehabilitation of survivors and deceased' families, medical expenses for lifetime, and jobs.
Mahmudul Hasan Hridoy, president of Savar Rana Plaza Survivors Association of Bangladesh, who used to work at the establishment, told The Daily Star, a single demand is yet to be fulfilled.
"We, the majority of survivors, have lost our normal lives," Hridoy said. "The government should meet our demands."
Khairul Mamun Mintu, organising secretary of Bangladesh Trade Union Centre, told this newspaper that the majority of survivors and affected families are passing days in hardship. So, the government should take initiatives to provide their due compensation.
At least 1,136 workers were killed and over 2,438 were injured in the tragedy.