WHO praised govt's efforts for healthcare development
Says Momen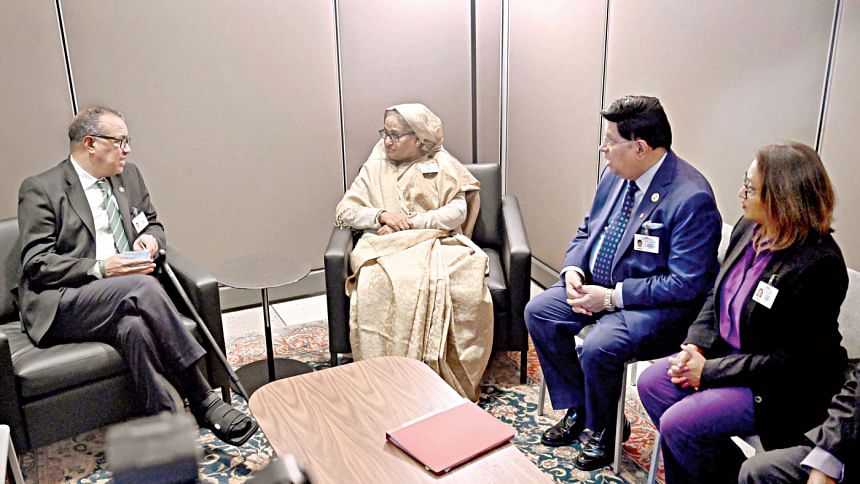 Foreign Minister AK Abdul Momen on Monday said World Health Organization Director General Tedros Adhanom Ghebreyesus praised the Bangladesh government's measures for overall development of the health sector.
Momen said this at a media briefing on Prime Minister Sheikh Hasina's daily engagements on the sidelines of the 78th United Nations General Assembly session in New York, reports BSS.
He said the community health clinics are an innovation of the PM from where people are getting over 30 medicines free of cost. "The community clinic has helped reduce child and mother mortality rates," he said.Momen also said the government has made a commitment to hold a free and fair election as the Election Commission was given absolute authority in this regard, adds UNB.
"It requires utmost sincerity from all, irrespective of their political background and views, for a free, fair and violence-free election. We want to set an example that we can do it," he said.
He said the EC is constituted under a law, and the prime minister does not appoint election commissioners.
The election commissioners can't be terminated even if the president or the prime minister wants. The EC can suspend, terminate or punish any government employee in case of irregularities, he added.
In reply to another question, the foreign minister said Bangladesh has a warm relationship with the US.
Noting that a friend can give advice to another, he said, "We have accepted many of their advice as well. We said if the advice is objective, we'll definitely accept it."
Citing an example, Momen said the US expressed concern over the Digital Security Act, saying that it was being misused to some extent. "So, we worked on it… We're working together."
He said the US announced the new visa policy against those who undermine the election.
"This is good for us. Because, we want all to join the election, and the polls to be free and fair. So, the US is working with us. We're working very closely on these issues," he said.