'Where will I go now?'
Riveside dwellers affected by untimely Jamuna erosion
Sudden erosion by the mighty Jamuna river has devoured vast areas in four upazilas of Tangail in the last few weeks, adding to the worries of the riverside dwellers.
Affected villagers said the untimely erosion has already washed away vast croplands, houses and a number of other establishments in the last couple of days.
Erosion-hit families are taking shelter at different embankments and their relatives' houses, they said.
The Tangail Water Development Board (WDB) authorities said they have already taken necessary steps to check the erosion.
Locals said the erosion started with a sudden rise in water level in the Jamuna river and has continued devouring vast fresh areas at different villages under Solimabad and Bharra unions in Nagarpur upazila, Kakua, Mahmudnagar and Katulee unions in Sadar, Beltia, Gorilabari, Gohaliabari Alipur unions in Kalihati and Bhalkutia, Khanurbari and Govindasi unions in Bhuanpur upazila.
Due to continuous erosion for the last few years, the affected villages are shrinking every year, locals alleged.
Instead of taking any permanent measures to prevent the erosion, WDB just dumps Geo bags in the affected areas during the rainy season, they said, adding that it does nothing but wastes people's money.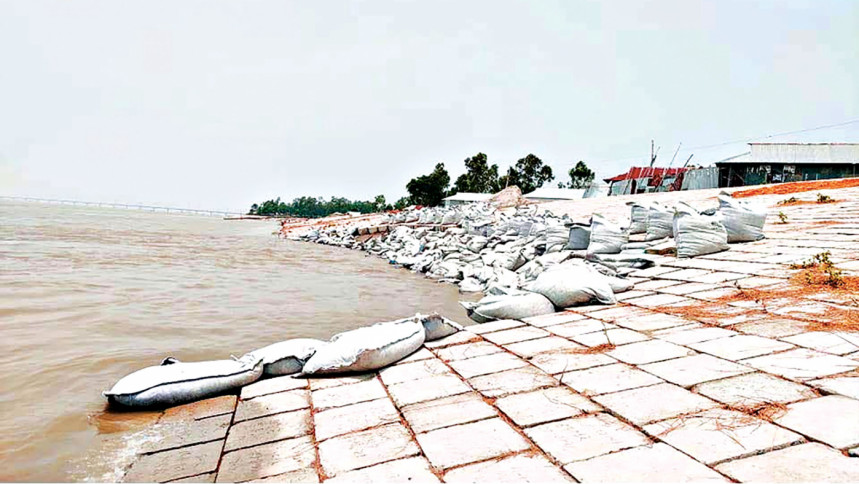 Although local public representatives pledged to take steps to construct a permanent embankment to resolve the problem, nothing has been done so far, they further said.
Rahima Begum (60) of Bhalkutia village in Bhuanpur upazila said, "Due to the erosion, I was forced to shift my home five times. I don't know where I'll go now."
Meanwhile, with the rise in water level in the Jamuna, the erosion has hit a newly constructed embankment at Beltia in Kalihati upazila a couple of days ago.
Blaming the substandard work, locals said the fresh erosion has already damaged a portion of the flood protection embankment.
Contacted, Tangail WDB Executive Engineer Mohammad Sirajul Islam said, dumping of Geo bags in the erosion affected areas was done to stop the erosion temporarily.
A project to construct an embankment, stretching from Mahmudnagar to Kakua area in Sadar upazila has already been approved, added the engineer.