Shakhari Bazar
Where tradition meets craftsmanship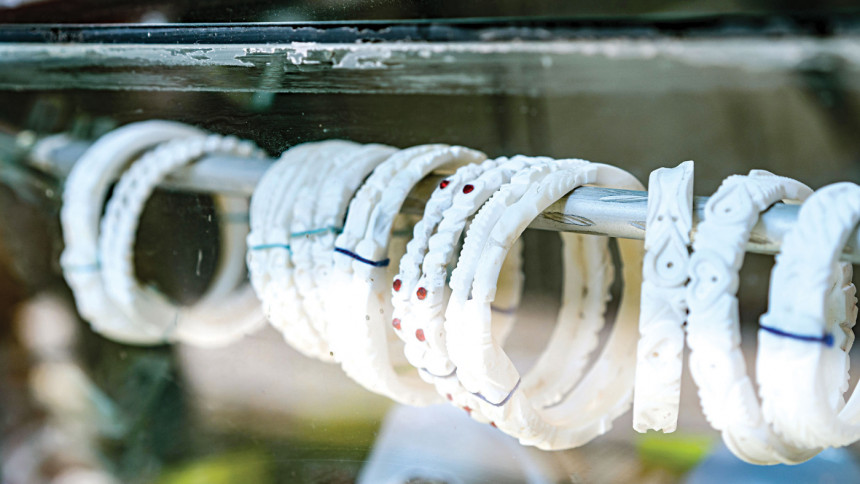 It is very easy for one to get woefully lost in the crevices and back alleys of Old Dhaka even with a guidebook. When one thinks of visiting Old Dhaka, Shakhari Bazar is a place that gets mentioned by almost all who either have lived or visited the area, thanks to its history associated with craftsmen.
With the advent of Puja, Shakhari Bazar livens up with festivity and sales.
Located near the intersection of Islampur Road and Nawabpur Road -- the two main arteries of the old city and only a block away from the Buriganga, Shakhari Bazar stretches along a narrow lane, lined with thin slices of richly decorated brick buildings built during the late Mughal or colonial period.
The name of the area is credited to the Shakhari community, who have kept the craft of making and selling "Shakha" (a white bangle made out of conch shells) -- traditionally worn by married Hindu women -- alive for ages.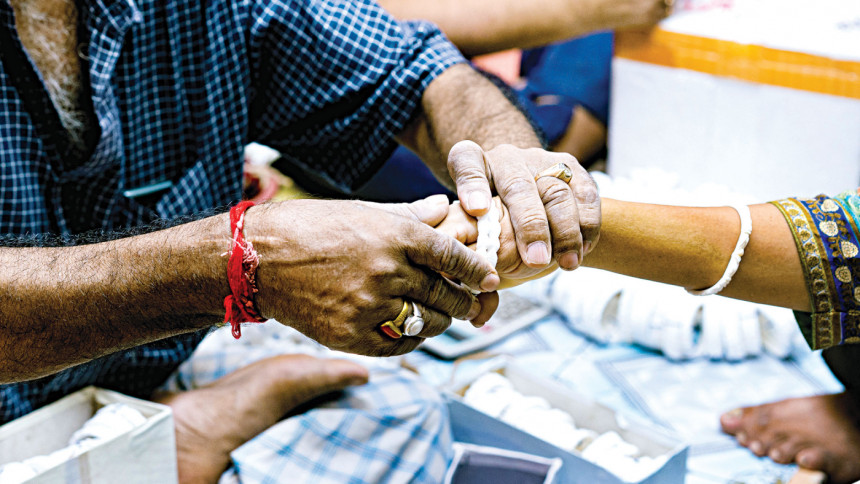 The history of Shakhari Bazar dates back to the pre-Mughal days, if not earlier. The first mention of Puran Dhaka can be found in the writings of Mirza Nathan, the general turned historian, who travelled with Subahdar Islam Khan.
He mentioned Puran Dhaka as the area between Dholai Khal and Buriganga river -- covering Shakhari Bazar, Tanti Bazar, Bangla Bazaar, Lakhsmi Bazaar, Bangla Bazaar, Kamar Nagar, Sutar Nagar, Goala Nagar, and many more. Each "mohalla" or area used to belong to separate communities, depending on their craft and trade.
However, the Liberation War changed this demography as many Hindu craftsmen had to leave everything behind to save their lives.
The ones who survived are the ones who have continued the lineage of their ancestral profession to the modern day, despite various difficulties. These craftspeople care deeply about their craft, so much so that many have said that their business and their very existence are intertwined.
And when one sees any of these "Shakha" or "Pola", that dedication surely reflects.
This correspondent spoke to many who are involved in this traditional craft at Shakhari Bazar, to understand the state of their affairs ahead of puja.
Shourav Chandra Shur (29), a Shakha and Puja appliance salesman at "Sreeguru Bhander", said, "I'm the third generation in this business. My father and grandfather still take charge of a few of the shifts."
"We are seeing better sales now, owing to the puja season. Orders for this season were already sent out two months ahead. Our regulars are already picking up their orders," he added.
Walking down the winding Shakhari Bazar road, this correspondent saw crowds gathering in almost every store. Some were visiting with their mothers, in-laws and daughters to buy Shakha and Pola.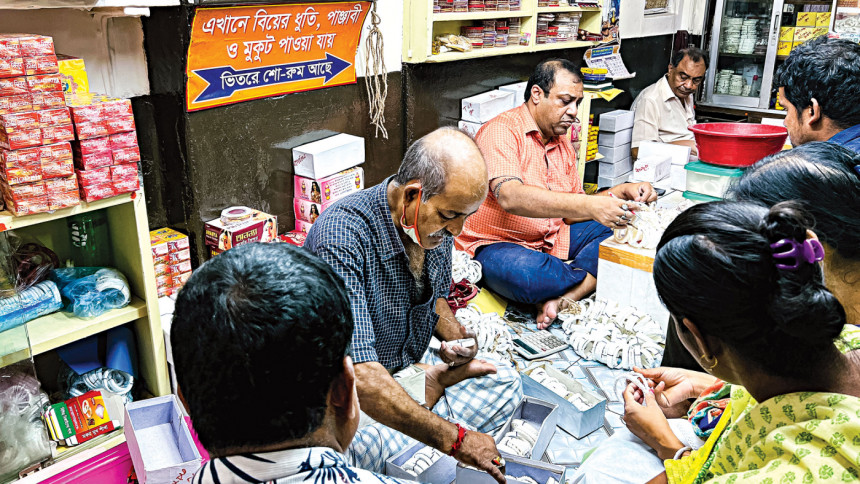 Nandita Deb, a local who was seen at "Shur Brothers", said, "I live in Road-52 in this area. I visit this store every year because they sell the best Shakha. The price this time has not increased drastically as well."
Johnny Shukh (35), a salesman at "Nag Vander" has been working there for almost 14 years now. He highlighted that while there used to be many artisans available, their numbers have reduced over time.
"There was once a time we could do everything -- from making the initial structure, down to the final polish. Now we just sell ready-made products. Many of these products come from India."
"A single shakha has to go through nine artisans to procure the final product. Hence, we don't bring in the raw, plain ones anymore as we only have a few artisans who can engrave designs on the shakhas," added Johnny.
Speaking on the current puja sales and stock, he said, "We usually bring around 2,000 to 4,000 shakhas in a single lot. At the store, we keep shakhas ranging between Tk 300 and Tk 5,000."
"During puja, shakhas worth Tk 700 to Tk 800 sell out the fastest. Some customers purchase shakhas worth Tk 400 to Tk 600 for rough use. The thick and wide ones are quite popular this season and their cost starts at Tk 3,000," he added.
On the other hand, Kartik Chandra Dhar, proprietor of Mahabir Pola Store, said, "Like everyone else, our business suffered greatly during the last two years due to the Covid-19 pandemic. We are seeing a rush during puja season, but I can't say that sales have risen exponentially."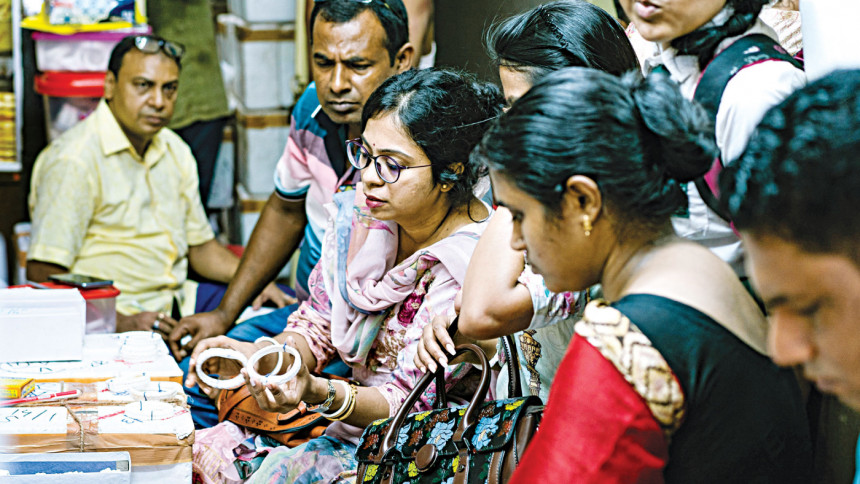 "The pola that you're seeing here is brought to Chawkbazar from India. If products worth Tk 5,000 are sold, we bring in more," he added.
The biggest crowd was seen at "Ma Mansha Shankha Shilpolay" where four salesmen were seen tending to eager customers.
Papiya Ray, a Wari resident who was seen purchasing Shakha from "Ma Mansha Shankha Shilpaloy", said, "I have been coming to this store ever since I got married. I love coming here since the shop owners know me personally and treat me dearly. They know exactly what I like and I can come here any time to get repairs done."
Shoumitra Nath, one of the owners, said, "Starting from the first of the Bangla month of Ashwhin till puja, we have made really good business. The biggest issue is that due to the price hike of gold, the premium shakhas are selling less."
"In terms of design, we try to keep up with the latest trends. For example, this puja, wide shakhas are quite popular. Customers are mostly purchasing shakha within the range of Tk 200 to Tk 600. We get a lot of sales during the wedding season as well," he said.
Speaking of their craft, Shoumitra said, "This business has been our ancestral profession for about 100 years now. Currently, my father is in charge, after him, it will be me and then my son."
"Our business only caters to the demand that exists, and the pool of people we sell to is very small. But I can say for sure that as long as our religious practices and religious harmony exist, so will our business," he added.