'Where do we complain?'
Anti-sexual harassment cell in JU almost non-functional for 10 years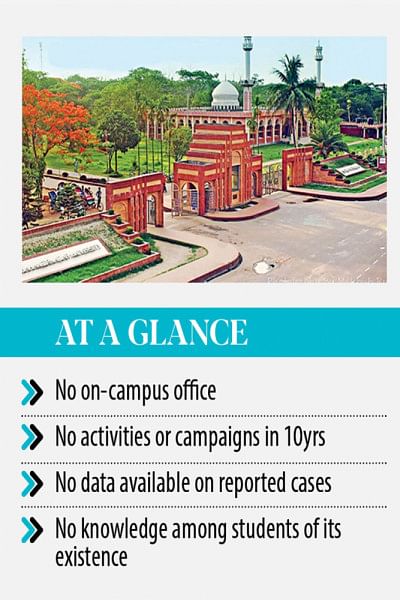 The anti-sexual harassment cell at Jahangirnagar University remains almost non-functional even after a decade of inception.
The cell has no office or visible activities, and the cell authorities too have declined to reveal any information regarding its operation.
"It is a sensitive issue. I cannot disclose any information regarding complaints about sexual harassment, including the number of cases reported," said Dr Jebunnessa, president of the cell and a professor of public administration at JU.
On March 10, 2010, the university authorities formed the cell following a High Court directive, aiming to address cases of sexual harassment in the university.
A seven-member committee, headed by Prof Jebunnesa, was also formed to keep the cell functional. The anti-sexual harassment cell was the first of its kind in any public university in Bangladesh.
The cell was also supposed to raise awareness and conduct counselling among students against sexual harassment. But most students are still unaware of its existence due to no visible activities in the last decade.
This correspondent talked to over 50 students from January 21 to 23. At least 20 of them said they don't even know of any such cell existing on the campus. The rest said they have heard about it, but did not notice any activities.
"I have been a student here for around five years. But I never saw any poster, leaflet or any other form of presence of the cell," said Khadizatul Kubra, an anthropology major.
"I don't know of any such cell on the campus. If it exists, it should come up with massive awareness campaigns," Nafisa Sharmin, a student of urban and regional planning.
Some female students, who have been victims of sexual harassment on the campus, claimed to not get any assistance from the cell.
"I was sexually harassed by a classmate who also threatened to rape me three years ago. I filed a complaint with the proctor's office, but did not get any support from the authorities," shared a female student from the arts and humanities faculty.
Contacted, the then proctor Sikder Md Zulkernine said he could not recall whether he received any written complaint. "If a complaint was filed, it must have been forwarded to the anti-sexual harassment cell," he said.
Dr Jebunnesa said, "I have taken charge very recently. I will definitely take necessary measures to have a separate office and make students aware of its operations."
Contacted, JU pro-VC (administration) Dr Sheikh Md Munjurul Haq admitted that students are not much aware of the cell due to lack of publicity. "We will take immediate steps to make the cell more functional," he added.