When markets go virtual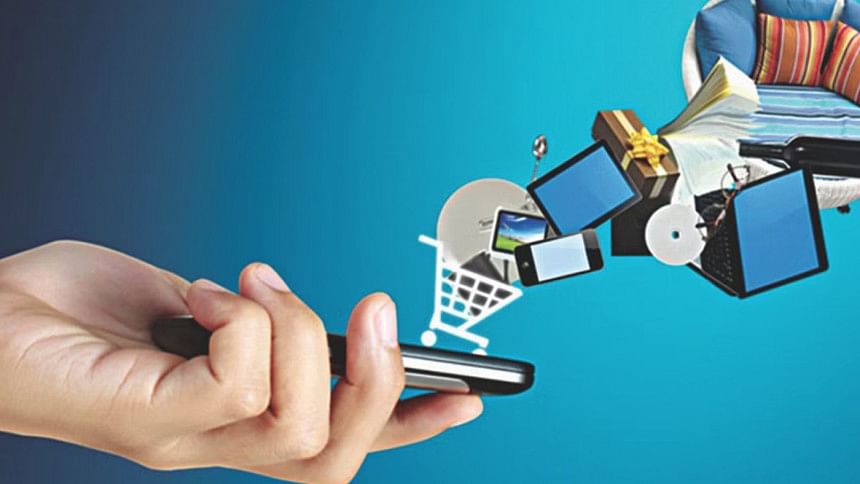 Thirty-five-year-old Farhana Rahman, a mother of two, was already an expert in making pickles. But when her husband lost his job during the lockdown, her pickle-making skills opened the doors to a new stream of income for the family.
It took her less than five minutes to open a Facebook page and before the week passed, she was already making her first sale.
"I was concerned about how I would make money and support my family. I later understood, however, that Facebook is the best platform for promoting my goods. I currently have more than 2,000 followers on social media and weekly orders from regular customers."
Farhana is just one of many success stories of Bangladesh's F-commerce sector.
For women, who are frequently shut out of the formal job market due to cultural norms and other obstacles, the trend is especially important. F-commerce enables women to launch businesses from the convenience of their homes and achieve financial independence.
In 2020, the Covid-19 pandemic forced the world to re-think traditional concepts of almost everything. Perhaps the biggest global shift was witnessed when traditional marketplaces were transformed into virtual ones, resulting in a boom of e-commerce around the world.
In Bangladesh, where F-commerce had been the norm for quite some time in the absence of a mature e-commerce ecosystem, it required little thinking on the feet when it came to starting an online business.
Nafisa Ahmed, 26, who started selling hand-painted bottles on Facebook in 2020, said it had changed her life. "I had no idea I could work from home and make so much money. I now have the chance to both support myself financially and also follow my passion."
In fact, according to reports from Meta, more than 70 percent of female-led businesses in Bangladesh were set up on Facebook since the pandemic began and there has been an increase of more than 65 percent in Instagram businesses owned by women.
Women in Bangladesh frequently encounter obstacles when trying to access formal employment opportunities because of social and cultural norms.
But thanks to the development of F-commerce, women have found a way to bypass that challenge. They can now sell their goods online and reach a larger clientele without leaving their homes and this has worked as a catalyst for many women who have been able to start profitable businesses and become financially independent, and giving them more freedom and control over their lives.
These days, one can get almost anything on Facebook. From sarees to SUVs, from parrots to potatoes, and everything in between—if you are thinking about it, it is probably already on Facebook marketplace.
"With a few clicks of a button, I can browse through a vast selection of products, compare prices, and make a purchase without leaving my room," shares Tamzid Khan while talking about how online shopping has almost permanently changed his shopping habits. "The other day, I bought a pair of jeans and just a few days before that, I had ordered a custom wall mirror. All online."
These virtual 'grand bazaars' of all things good and merry is a curious case to the West where e-commerce giants like Amazon and eBay dominate the online marketplace scene. However, their absence in the region has proved to be a boon for casual sellers like Nafisa and Farhana who rely on their online businesses to financially support themselves and their families.
On one hand, f-commerce or these 'virtual markets' provided a lifeline for many businesses during lockdowns and other restrictions. With traditional retail outlets closed, online sales were the only way remaining for many businesses and individuals. For many consumers too, the behavioral shift stuck for good as the convenience and ease outweigh the factors of 'trust' and 'delays'.
The country's delivery infrastructure, however, is still in need of development, with scanty road systems and subpar transportation options in rural and suburban areas. This makes it challenging to provide customers with goods in a timely and economical manner, especially in remote areas.
Online buyers are also frequently susceptible to fraud and scams and many prefer to pay in cash when receiving their purchases rather than using online payment methods.
The recent fiascos regarding some of the largest e-commerce sites in the country certainly did not help the cause. New virtual businesses, as a result, often find it challenging to gain traction and develop a devoted customer base because of this lack of trust.
The government has, however, recognised the potential of F-commerce and has taken steps to support the industry. In 2020, the Ministry of Commerce launched an online marketplace called "Digital Haat" to provide a platform for SMEs to sell their products online, which was a success at the time. But more remains to be done, particularly in the case of building up a good digital and logistical infrastructure.
For sellers like Nafisa, the concept of virtual market is a blessing. For customers like Tamzid, it is a convenience unlike anything else. However, these 'virtual markets' remain regulation-free and in a relatively volatile state. Aggressive expansion campaigns from established e-commerce giants, if any, will almost entirely wipe-out these makeshift virtual markets.
But that day is not today. Farhana has a new batch of pickles ready to be dispatched. It's a good day for business.