When land costs more than just money
Violence centring land on the rise, finds study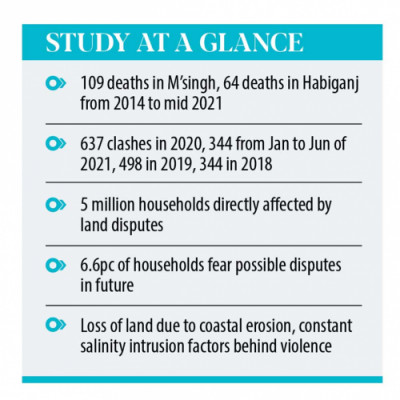 On an unfortunate morning in April 2009, Kabir Ahmed and his wife were working in the backyard of their home in Patenga of port city. All of a sudden, an altercation over land broke out in front of them. At one point, some people swooped on a youth and hacked him with machetes.
Later, the youngster died in the hospital.
A lone witness of the killing, Kabir had to testify in court. The murderers did not appreciate this.
When the killers got out of prison in December 2020, they were hell-bent on ending the lives of Kabir and his wife. On January 1, 2021, they attacked Kabir's family, killing his wife.
"I wasn't even a part of this feud, but it ruined my whole family. Our only fault was that we witnessed the killing," a devastated Kabir, now 65, told The Daily Star.
A country already in need of free land, Bangladesh is facing huge challenges because of land degradation due to climate change and loss of agricultural land, says a report of United Nations Department of Economic and Social Affairs.
Land feuds like this have not only destroyed Kabir's family, but millions of other ones. A similar number of land-related cases are piled up in courts, unresolved.
Clashes centring land are rising, with Mymensingh had the highest number of deaths caused by land-related violence.
This scenario was mentioned in a study recently revealed by Bangladesh Peace Observatory (BPO). The study analysed land-related data of all districts for six and a half years, from 2014 to mid 2021, and came up with the figures.
A total of 109 deaths were reported in Mymensingh during this period, while Habiganj came second, with 64 deaths.
The study found that 637 clashes, the highest number, occurred in 2020, and 344 clashes took place from January to June of 2021. The number of clashes was 498 in 2019, and 344 in 2018.
Shah Mohammad Salahuddin, a BPO researcher who was involved with the study, told The Daily Star that growing demand for land increases chances of disputes and violence.
"Studies found that issues regarding legacy, counterfeit documentation, misinformation, selling without consent of actual owner, selling the same piece of land to multiple people, unavailability of documents, and exchanging land orally are responsible for the clashes," he said.
Five million households are directly affected by land disputes in Bangladesh, and around 6.6 percent of households fear possible disputes for their land in the future, the study said.
Loss of land due to coastal erosion and constant salinity intrusion are causing climate change-vulnerable districts to experience increasing land-related violence.
Rifat Islam Rupok, a researcher of the study, said, "Clashes in coastal areas are higher than that in non-coastal areas, as climate change and other factors are contributing to degradation of land. On top of this, demand for land is rising, leading to clashes."