Water is what they need
80 Bandarban villages in severe crisis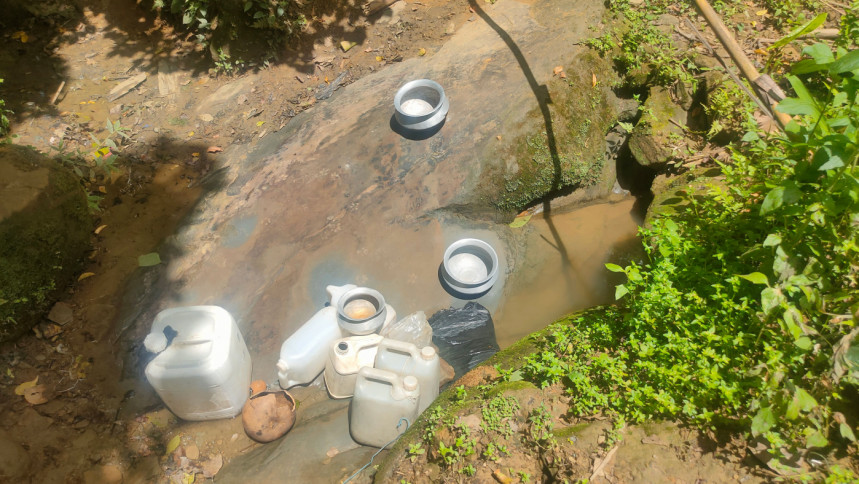 Around one lakh people living in 80 villages in Bandarban's Alikadam and Naikhongchhari upazilas are passing days in a severe water crisis.
The people of these areas used to collect water from the hilly streams locally known as "Jhiris". Many of these Jhiris have already dried up, while the others are on the verge of drying.
Illegal stone quarrying and felling of trees are the main reasons for drying up the water streams, according to locals and environmentalists.
During a recent visit to the two upazilas, this correspondent saw residents having to go a few kilometres away for collecting water.
Some 30 families live in Naikhongchhari's Kamchum Para. All of them have to collect water from a waterbody two kilometres away.
"We don't have sufficient water for bathing, washing clothes or sanitation. Many of us have fallen sick for lack of pure drinking water," said Kamchum Mro, the village head of Kamchum Para.
Bandarban Civil Surgeon Nihar Ranjan Nandy said people are getting infected with different types of waterborne diseases due to scarcity of pure drinking water.
Five families of Naikhongchhari's Nyashupara used to live near a Jhiri. When that dried, they moved to near another one to have a sustainable source of water.
The second one is on the verge of drying as well, said Nyashu Mro, head of the Nyashupara.
All the nine families in Yaring Para depend on a single Jhiri, which flows very little amount of water.
"There is another Jhiri around two kilometres away on a hilltop. We have to go all the way up there when our nearby Jhiri is exhausted," said Diwai Mro, a resident of the village.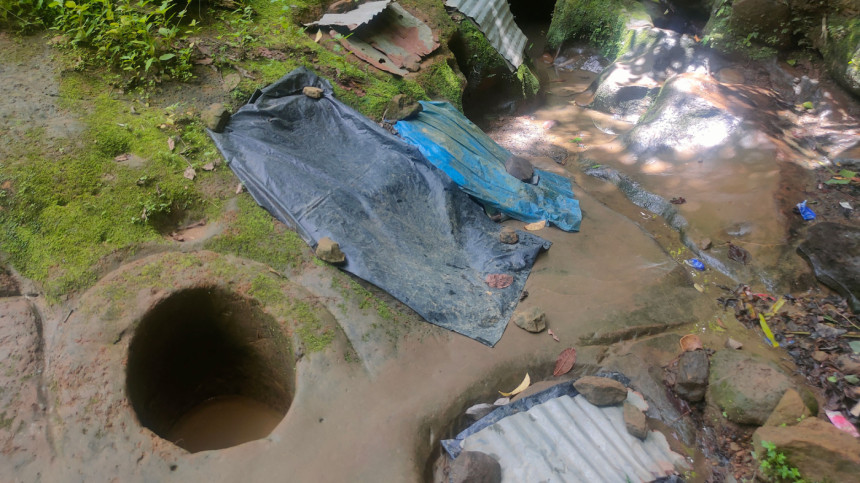 "We did not get any assistance from the government or local representatives in this regard," he said.
Naikhongchhari upazila Vice-Chairman Monglawai Marma said the water crisis cannot be solved until illegal stone quarrying and tree felling are stopped.
Contacted, Naikhongchhari UNO Salma Ferdous said 50 deep tube wells are currently being installed in the upazila, while Alikadam UNO Mehruba Islam said they have been distributing water purifying tablets among the people.
"All the Jhiries will dry permanently if the government does not take immediate steps to stop stone quarrying and tree felling," said local environmental activist Sayeed Noushad.
Contacted, Bandarban's deputy commissioner Yasmin Parvin Tibriji said the district administration is conducting mobile court drives to stop stone quarrying and tree felling to put an end to the crisis.