Water level of major rivers in north-eastern region rising: FFWC
Low-lying areas in Kurigram inundated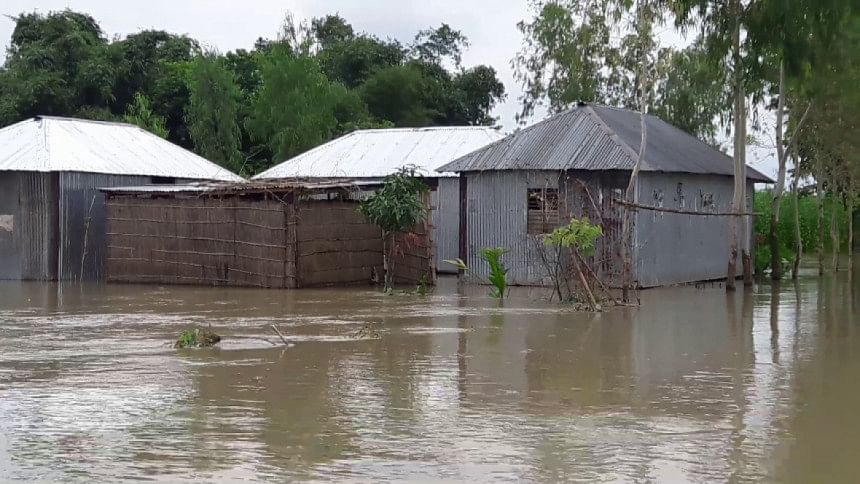 Flood Forecasting and Warning Centre (FFWC) recorded a rise in water levels at 91 points and a fall in 15 others while monitoring the situation of the country's 109 rivers in the 24 hours till this morning.
The water level at three river stations has been registered as steady and all rivers are flowing below the danger level, a bulletin issued by the FFWC said on Tuesday.
The Brahmaputra-Jamuna and the Ganges-Padma rivers are in a rising trend which may continue for the next 72 hours, it said.
"All major rivers of this region are rising rapidly. According to the weather forecasting agencies, there is a chance of heavy rainfall in the north-eastern region and adjoining upstream region of the country in the next 24-hours. As a result, the major rivers of this region (Surma, Kushiyara, Sarigowain, Jhalukhali, Bhugai-Kangsha, Someswari, Jadukata) may rise rapidly and create a short-term flood situation in the low-lying areas of Sylhet and Sunamganj district at this time," it said.
Due to heavy rainfall forecast in the Teesta, Dharla and Dudhkumar basin and adjoining upstream region in the next 24 hours, these rivers may rise rapidly during this period.
The Teesta river at Dalia point may flow close to the danger level in next 24 hours, added the bulletin.
UNB Kurigram correspondent reports: The water level of 16 rivers including Brahmaputra, Dharla, Teesta and Dudhkumar of the northern region have continued to rise in Kurigram due to the heavy downpour and onrush of water from upstream.
However, the water is flowing below the danger level at all points. Low-lying char areas along the banks of rivers are getting flooded every day.
As a result, fields of various crops including seasonal vegetables in river basins are being inundated.
Hundreds of families in Nageshwari, Ulipur, Chilmari, Roumari, Rajibpur and Kurigram Sadar upazilas of the district have been stranded in flood water.
People of these areas are currently using boats as their main way of communication as most of the roads of these areas went under water.
People are facing a shortage of pure drinking water due to the sinking of tube wells in char and low-lying areas.
Abdullah Al Mamun, executive engineer of Kurigram Water Development Board, said that the water level of all the rivers of the district keep rising, but it is still flowing below the danger level.
However, the water of these rivers may cross the danger level on June 22 and 23, he added.