Watching the Sunbirds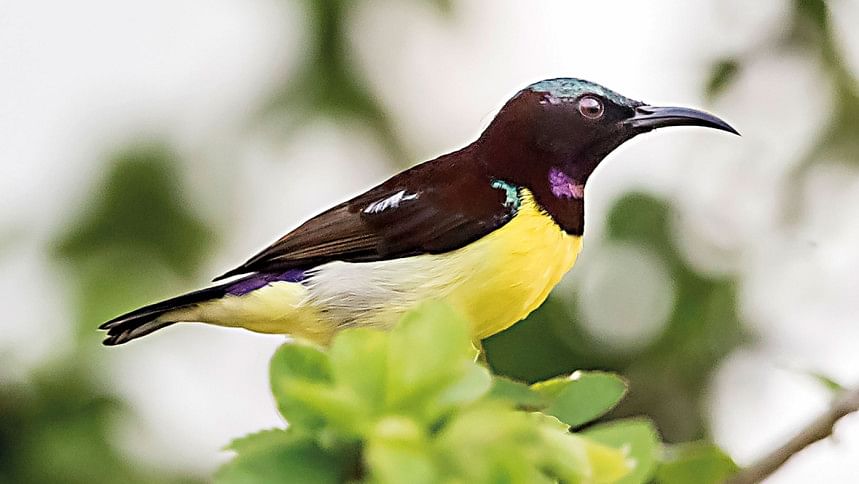 Like a high-wire acrobat the tiny bird tiptoes forward on the thin horizontal hibiscus branch, step by step. The branch swings up and down with the bird's weight but the grip of its claws remains firm. As it approaches the flower terminating the branch, its patience runs out. Abandoning the circus act, it jumps up, hovers for a split second in the air, propels itself forward and lands on the flower's base. Opening its beak, it extends its needle-like tubular tongue and inserts it into the flower's base.
It takes two or three seconds to extract the nectar. Then it lifts its head, searches, and moves on to the next flower.
After a few months, I am on the rooftop again watching sunbirds. A quarter of our eleventh floor roof is covered with grass around which grow hibiscus, rongon and other flowering plants. The sunbirds come to drink the nectar of the flowers.
Bangladesh has six species of sunbird. Two species show up on this rooftop: Purple Sunbird and Purple-rumped Sunbird. The former is more frequent and easier to approach. The latter is an uncommon arrival, taking flight whenever it sees my camera.
Sometimes the sunbird arrives as if thrown like a basketball from the floor below, a pendulous movement lobbing it in a high arc before it drops like a stone onto its target plant. At other times it arrives in-your-face like an approaching airplane, flying in straight from a neighbouring rooftop.
And then it flits from plant to plant, flower to flower, sipping nectar, before taking off just as abruptly.
Not all of the rooftop sunbirds are equally attractive. The most beautiful is the male Purple-rumped Sunbird, with a blue head, red and purple neck, yellow breast, and a patch of purple on its tail. The male Purple Sunbird is photogenic only part of the year when iridescent purple-blue feathers cover its body. But as summer and monsoon roll around, it disappoints. That's because after mating in spring, when its purple plumage is enhanced by a bright orange circle on its shoulder, it assumes "eclipse plumage" in monsoon when olive and yellow feathers cover its body. The only reminder of its springtime glory is a small blue patch on its shoulder.
Females and juveniles of both these sunbird species are brown. They are friendlier than males and easier to photograph. The juveniles, unfamiliar with the cruel ways of the world, can be slow and sit still for seconds or even minutes at the same spot. But no matter how friendly, I soon run out of patience with them because drab colours do not make pretty pictures.
Sometimes several sunbirds arrive together. They call loudly – chwee-chwee-chwee – to each other as they frolic among the flowers and chase each other. Once I saw the eclipse male sit on a high hibiscus and sing its heart out for several minutes. When the desired female did not show, it moved to another plant and resumed its call.
These two species of sunbirds can be found in gardens and parks of the city. If you want to look for them remember they are small, quick, and drawn to flowers.
facebook.com/ikabirphotographs or follow "ihtishamkabir" on Instagram.