Want to save a river? Brace for slew of cases
Tk 8.15-cr project to save Ichhamati fails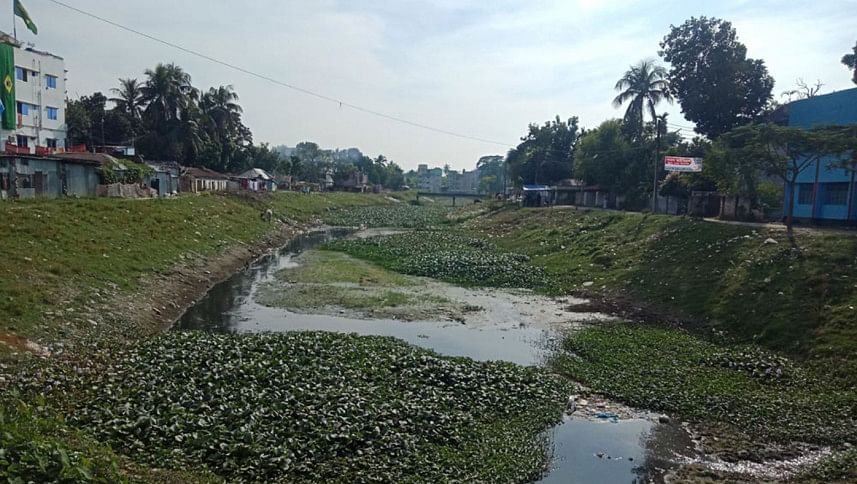 In March 2021, Water Development Board started dredging  5.67 kilometres of Ichhamati river to increase its navigability, under a project worth Tk 5.46 crore. Besides, it simultaneously kicked off an eviction drive, under a Tk 2.69-project, to free the riverbank.
The deadline of the first project was June 2022, while the second one is scheduled to end in February 2023.
But TTSL, the company in-charge of the dredging project, apparently left the project site some months ago after completing only 30 percent of the work. Some Tk 95 lakh used  for the project so far  has practically been washed away into Ichhamati, as the re-excavated part of the river has been covered with silt again.
The eviction drive has been abruptly halted too, and the encroachers are trying to reoccupy the land that was freed.
The reasons for this situation are the slew of cases filed by the encroachers and lack of coordination between Water Development Board (WDB) and TTSL.
"We have written  repeated letters to TTSL to complete the dredging work but they are reluctant to continue," Sarwar Jahan Sujon, executive engineer of Pabna WDB, told The Daily Star.
"Only 13 percent of the allocated fund has been used so far," he mentioned.
Md Ismail Hossain, a local shopkeeper, said, "I had been living beside the river for many years. But my house was evicted in the name of dredging the river. Sadly, the river has been filled up with silt again."
"This was all for nothing,"  Ismail said.
Md Shahin Reza, sub-divisional engineer of Pabna WDB, said only 2.67 km of the connecting channels of Ichhamati and few parts of the main river were dredged till June.
"As the entire project couldn't be completed, the dredged portion has filled up with silt again. We're back to square one." Shahin said.
Md Ruhul Amin -- secretary of Swechchhasebak League's Pabna district unit and representative of TTSL -- said, "WDB never handed over the entire project site, only a part of it. So, we are unable to complete the entire project."
Ruhul, however, said they left the project site as  they didn't see any possibility of earning profits from it, but he didn't elaborate on what he meant.
A total of 610 illegal structures out of 1,053 have been removed from riverbanks since the beginning of the eviction drives, said  Md Mosharaf Hossain, assistant director of WDB's land and revenue section.
But the drive was halted as encroachers have filed a series of cases in this regard, he noted.
"The court issued separate stay orders, so we were bound to stop the eviction drive," he added.
Abdul Hamid Khan, secretary of Poribesh Andolon, Pabna, said, "Pabna's mighty Ichhamati has been dead for many years due to encroachment and pollution. Finally, there was a ray of hope due to the dredging and eviction drives. But it turned out to be nothing but a waste of money."