Govt's 40-day Job Scheme Project
Wait for wages lingers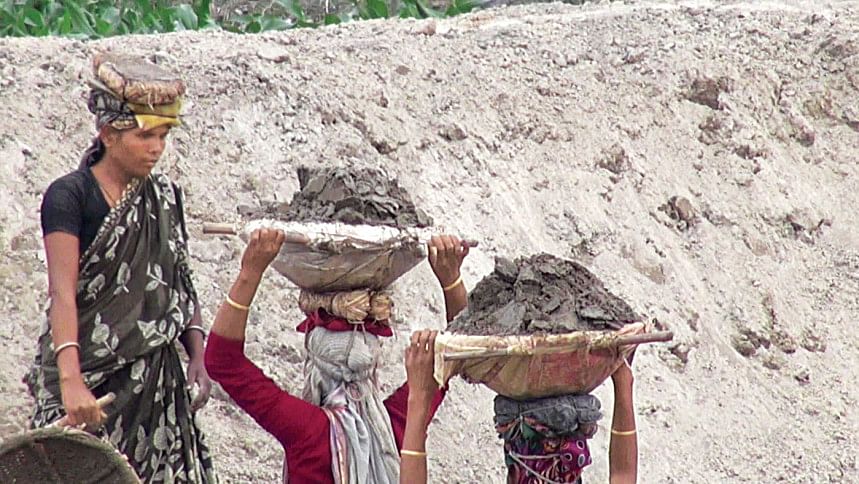 Most of labourers in Lalmonirhat and Kurigram have yet to receive wages even after the completion of the government's 40-day job scheme project. As a result, the labourers have run into debt to run their families.
According to district relief and rehabilitation sources, the government has allocated Tk 13 crore 38 lakh and 40 thousand for 8,365 beneficiary labourers in five upazilas of Lalmonirhat and Tk 43 crore and 52 lakh has been allocated for 27,200 beneficiary labourers in nine upazilas of Kurigram.
These allocations were made in mid-December last year. But the project got delayed due to complexities in preparing the list of the beneficiaries by the local representatives. The labourers were given their wages to their respective bank accounts last year but this year they are going to be paid by e-payment system through mobile financial services-- Nagad and bKash.
Alema Bewa, a beneficiary labourer in Burirbazar area under ​​Mahindranagar union in Lalmonirhat Sadar upazila, said their work has been completed but they have not received any wages yet.
"We have run into debt as we haven't got wages in time," she said.
Ekramul Haque, another beneficiary labourer of the same village, said they got a wage of Tk 200 in previous years, which has been doubled this year.
Sakhina Bewa, a beneficiary labourer from Nawdanga village in Phulbari upazila of Kurigram, said she was supposed to get Tk 16,000 for working 40 days this year but has not received any wage yet.
Abdul Majid, chairman of Mahendranagar Union Parishad in Lalmonirhat Sadar upazila, said the work of the project was delayed due to some complications in preparing the list of beneficiary labourers.
The concerned department has been contacted regarding the wages of the labourers, he said.
Lalmonirhat Sadar Upazila Project Implementation Officer (PIO) Mashiur Rahman said the wage was paid by the PIO office of the concerned upazila in the past years but it is being paid directly from Dhaka this year.
District Relief and Rehabilitation Officer in Kurigram Abdul Hai said there was a slight delay in payment of wages as the labourers' mobile numbers were incorrect.
All the labourers will get their wages soon, he hoped.