Visitors scaring the vultures away
Influx of people forces the birds to leave Pabna village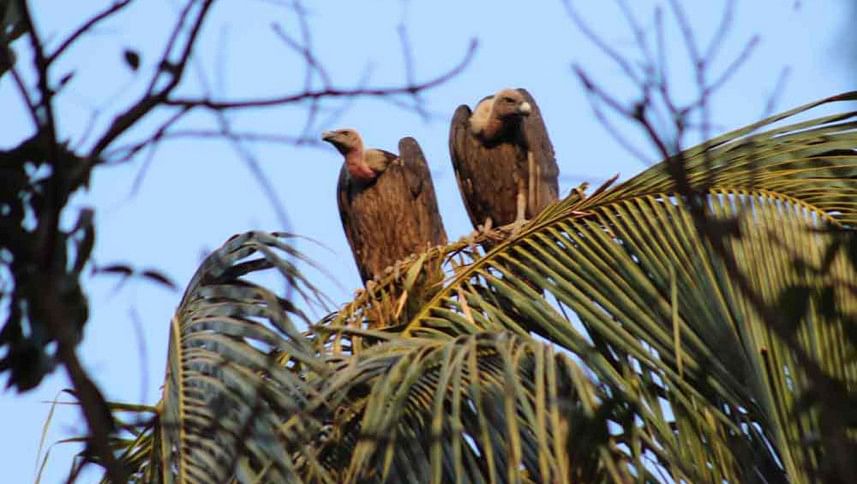 A flock of 15 white-rumped vultures, which are now endangered, has made its home in different trees of Mollapara village of Pabna's Bera upazila. As news of the birds spread through various news outlets and social media, the area has seen a surge in visitors coming from far and wide to witness the rare sight.
But the sudden influx of visitors has caused disturbance and disruption for the flock, resulting in some of the birds disappearing from the area, claimed locals.
Vultures are known to be sensitive to human presence and are easily frightened, especially during breeding and nesting periods, according to experts. The increase in human activity around the colony has reportedly disrupted the birds' natural behaviour, causing few of them to abandon their nests and leave the area.
To address this issue, local authorities and conservation organisations are taking steps to regulate human activity around the vulture colony.
The Forest Department held a meeting in Bera upazila parishad on Monday, to make locals aware about the necessity of vultures in the natural environment and the need to preserve these endangered species. Visitors are being advised to maintain a safe distance from the birds and not to disturb their natural habitat.
"In Bangladesh, there are only two vulture colonies -- one in Sundarban and another in Rema-Kalenga of Habiganj. The Mollapara village is an exceptional case, as this is the first time a vulture colony has been spotted in the locality," Kashhop Bikash Chandra, divisional forest officer of Pabna, told The Daily Star.
"We are trying to spread awareness among locals to save this endangered species," he added.
Pabna Divisional Livestock Officer Kashyap Vikas Chandra said, "As many people live in the village, local cooperation is needed to build a safe vulture colony here."
"Vultures, which are important for the environment, have been disappearing since the 1980s due to food shortages and use of harmful substances in the environment," he said.
"Plans are being taken to ensure safe habitat and food security for vultures in Mollapara village," he added.
THE VILLAGE THEY CALL HOME
The sighting of these vultures has been met with excitement and optimism, as it is a promising sign for conservation efforts. Although conservationists, barring those from Pabna, came to know about this development recently, locals claim that these birds started living in the village three decades ago.
The vultures roam different areas in search of food every morning and return to their residence before evening. They live in several trees of the village -- including coconut, cedar, and tamarind trees -- beside the homes of Mollapara college teachers Abdul Malek and one Azgar Ali.
Azgar said, "A long time ago, I was trimming my coconut tree's branches when I noticed the vulture's nest and halted my work. Since then, I have been letting the vultures stay there."
He added that although vultures do produce offspring, they typically die after falling out of their nest.
Allama Shibli Sadiq, an ornithologist at Sheikh Kamal Wildlife Center in Gazipur, said, "While there were once seven different species of vultures in the nation, they are now in danger of going extinct. It has been determined that the vultures that have been spotted in the village are members of the imperilled white-rumped species. About 250 of these vultures were discovered during a 2015 survey, but they are no longer as common today."