Violating Lockdown: Detainees mostly poor, now prey to court frauds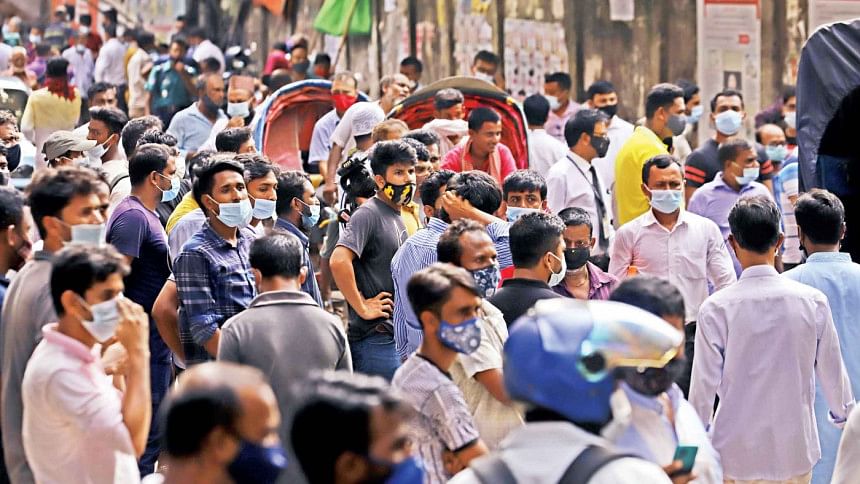 Morzina Begum was waiting anxiously outside the Chief Metropolitan Magistrate's Court in Dhaka Tuesday morning. Her younger son, Mohammad Hasan, was arrested by Hazaribagh police Monday night for being out during the lockdown.
After looking for him for quite a while, the 60-year-old learnt that Hasan was going to be produced before a court. She went to the court all the way from Hazaribagh to have a glimpse of her son.
"My son went to buy some food on Monday night when police arrested him. How would we survive if my son remains in jail? The pandemic makes our life difficult and his arrest will worsen our condition," said Morzina in the afternoon.
As Morzina was talking to The Daily Star, Hasan, who works as a sales assistant of a tailor in Kamrangirchar, walked out of court paying a Tk 100 fine.
Seeing her son, Morzina broke down in tears.
"I went out to buy food with Tk 1,200 I had saved. Even though I was wearing a mask and explained why I was out, the police arrested me," said Hasan.
Inside the court compound, several hundred families and friends have been gathering every day to see loved ones arrested for violating the lockdown rules.
Most of the arrestees are poor and had gone out to earn daily bread.
A total of 687 people arrested under section 77 of the Dhaka Metropolitan Police Ordinance, 1976, were taken to the Chief Metropolitan Magistrate's court on Tuesday and on Wednesday, 556.
Section 77 of the DMP Ordinance says, "Whoever willfully puts, presses, hustles or obstructs any passenger in any street or public place, or by violent movement, menacing gesture, screaming, shouting, willful frightening any animal or otherwise disturbs the public peace and order shall be punishable with fine which may extend to two hundred Taka."
Hundreds of family members have been pouring into the court premises in Old Dhaka every morning.
Shilpi Begum, wife of battery-run rickshaw driver Abdul Kuddus from Kamrangirchar, was found waiting outside the court.
Kuddus was arrested near his home on Monday night.
"As my husband's has no earnings since the start of the lockdown, we have no food at home. He went out to drive his autorickshaw around 8:00pm," Shilpi added.
Day labourer Fazlu Mia from Dania area said his 17-year-old son Imran went out to get some things from a convenience store on Monday afternoon when Kadamtoli police arrested him.
He said a clerk of a lawyer approached him and asked for Tk 700 to have his son released.
"I gave the money and he asked me to wait promising that my son will be released. I found no trace of him," he alleged.
Around 4:00pm yesterday, Fazlu was still waiting for his son's release.
Fazlu is not alone. Many are falling into traps of frauds.
Nur Islam, 30, is a rickshaw puller.
A team of Ramna police detained him from Bangla Motor area around 6:00am yesterday for not wearing a mask.
His wife Nasima, 27, reached the CMM court after learning about the incident later in the morning but fell into a trap.
"Introducing himself as a lawyer at the court premises, a man told me that it would take Tk 1,500 to free my husband. I believed him and paid," Nasima told The Daily Star yesterday.
"Later, I learnt that those, who are arrested by police for defying lockdown, are fined Tk 100," she said.
After his release, Nur said, "Police detained me even though I was pulling my rickshaw wearing a new mask."
Court sources said until yesterday, over 4,000 people were arrested in connection with violating lockdown rules and taken to the Chief Metropolitan Magistrate's Court in Dhaka.
The magistrates fined them only under section 77.
On the first three days of the lockdown, the court sent 75 to jail for failing to pay the Tk 200 fine.
Since Sunday, the court released those who failed to pay the fine immediately, the sources added.
Iftekher Ahmed, additional deputy commissioner of DMP (Media), said those who are going out without any reason are being arrested irrespective of being rich or poor.
"Those who are arrested always try to establish a reason," he added.
Human Right Forum Bangladesh in a statement yesterday expressed deep concern over the arrest, detention and penalising of people, including those of the low income working class, and demanded sufficient relief for them so that they do not need to go out.