Vegetable Saplings: Lockdown, incessant rain frustrate growers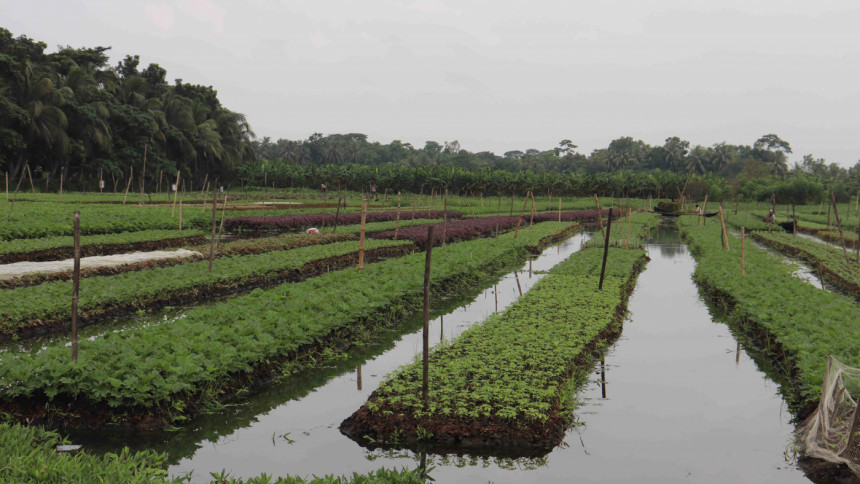 Farmers, growing different varieties of winter vegetable saplings on floating seed-beds in the district, are gradually getting frustrated, fearing huge losses due to the countrywide lockdown and incessant rain during this peak time of the year.
A number of farmers said that due to lockdown the local markets are closed and the presence of wholesale buyers from other parts of the country is very poor.
"We are unable to sale our produces as wholesale buyers are not visiting the area due to lockdown," grower Mohammad Mostafa of Mugarjhor village Nazirpur upazila said.
The wholesalers purchase different varieties of vegetable saplings from farmers and took those to different areas of the country for sale, he added.
Another farmer Mohammad Waliullah said huge number of vegetable saplings have already been damaged due to excessive rain.
They are already counting losses as the production cost is increasing every year, he said.
Abdul Elahi of the village said they can grow saplings four to five times in a season, but this year they have produced saplings once.
Farmers said after meeting all the expenses they can make a profit of Tk 2 from each sapling, but this year it seem very difficult to get back their production cost.
Farmers in different marshland areas of Nazirpur and Nesarabad upazilas, and Barishal's Banaripara upazila grow different variety of vegetable saplings like beans, bitter gourd, papaya, brinjal, pumpkin, tomato and chilli on the floating seed-beds, locally known as Dhap, made with water hyacinth.
Farmers grow vegetable saplings for over five months from June every year.