Uprooted from a life once stable
Bangladeshis displaced by the Russia-Ukraine war still struggling to start afresh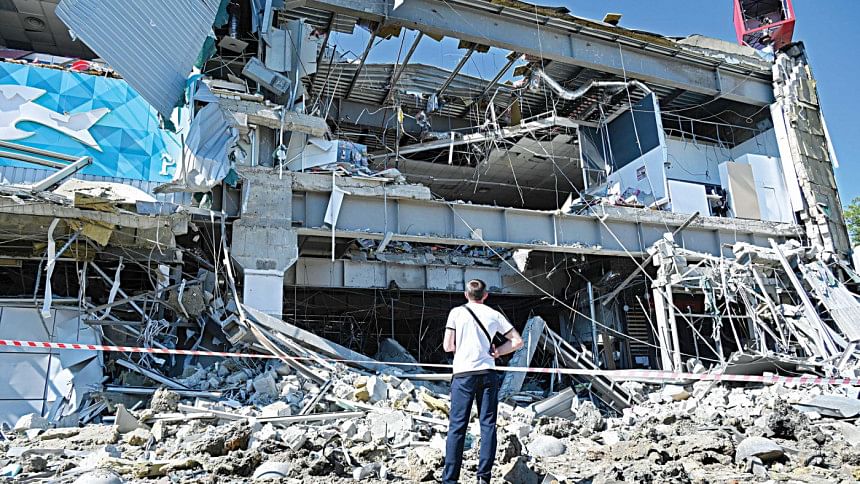 Mehedi Hasan Mohon knew his life would never be the same when the Russia-Ukraine war began a year ago.
"Back in Kyiv, I had my own house and automobile business. Now, I'm living in the Netherlands as a refugee," he told The Daily Star over the phone.
Mohon had gone to Ukraine 32 years ago on a scholarship for higher education. "I had been there since then and married a Ukrainian woman.
"I had to struggle a lot to settle there. I did various jobs before being able to start my own business. Despite all of that, I was leading a very happy life. But then the war came and all my happiness went away."
Mohon, an engineer who is now working as a robot operator in the Netherlands, said, "I am having to start my life from scratch. We could not bring anything with me, not even cash. So, we are now having to start a new life in a foreign country."
He and his friend Abdul Awal, another Bangladeshi, left Ukraine together to save their lives. Having left everything behind, they first went to Poland and stayed there a couple of months. From there, they part ways and went to two separate destinations.
"I am in the Netherlands, while Awal is now in England," Mohon said, adding that he is not sure how long he would remain in the Dutch country.
Before the war broke out, around 1,500 Bangladeshis were living in Ukraine. Now, around 20 remain there.
This correspondent spoke to one of them – Ahmed Faruk Mithu, who was in war-torn Kyiv even till yesterday.
"Where am I supposed to go? I've been living here for 34 years. Everything I have achieved was because of what this land has given me. I will stay right here and will not have any regrets if I die here," said Mithu, also president of the Bangladesh Culture Centre in Ukraine.
He said most of the Bangladeshis who had valid documents took refuge in many European countries, especially Germany, the Netherlands, and France, while a good number of them went to Canada.
Khaled Hasan Khan escaped Kyiv through the Hungary border and moved to Switzerland. He has been living there for the past 11 months with his wife and daughter.
Khaled had moved to Kharkiv, the second largest city in Ukraine, in 1984 for higher studies. He met his wife Rokhsana Ahmed in 1988 at the university they were both students of.
"We got married and moved to Kyiv in 1997 and began building our future. We surrendered our Bangladeshi passports and became Ukrainian citizens.
"But the war snatched everything away from us. I am a few months short of turning 60. Can you imagine, someone at my age is having to learn a new language to earn a living? My wife and I are both having to learn Swiss now."
Khaled added, "We are almost always depressed. My business, friends, home are all there [in Ukraine]. Yes, Switzerland is a beautiful country and the Swiss government arranged everything for us. But we are still refugees here. Living the life of a refugee is a completely new and very painful experience."
As men under 60 are not allowed to leave Ukraine, Khaled has been unable to go visit his home again in fear of not being able to return to Switzerland to his family. "If I go there now, I will not be able to come back. If I can't come back, my daughter's future will be in jeopardy. Once I turn 60, I will go and visit."
His wife Rokhsana was able to visit Kyiv a month ago, as there is not such restriction on women. She went and checked on their home and businesses.
Upon her return, she had just one thing to say, "The war must stop. The sufferings must come to an end."
Ukraine has now surpassed Syria as the world's largest displacement crisis, with more than 13 million people displaced, including 8.1 million refugees forced to cross borders and 5.4 million people displaced inside the country.