Unfolding the mysteries of Sundarbans
Initiative taken to set up 'museum and interpretation center'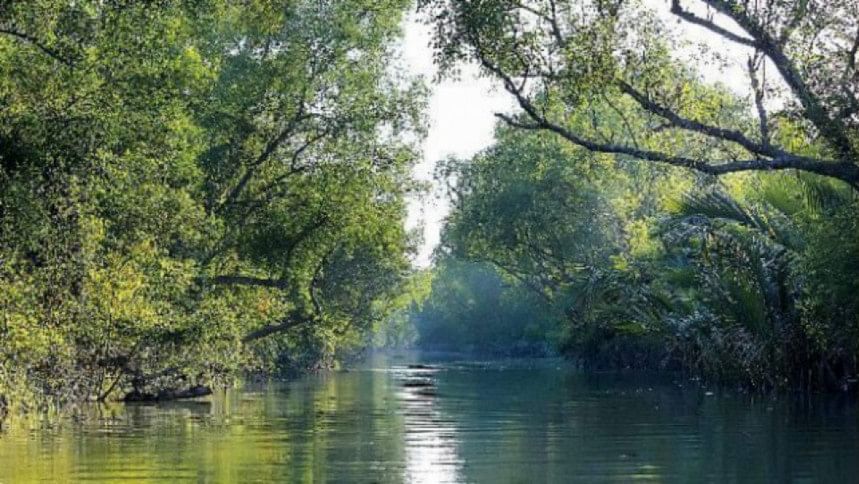 A strategic location in the Chandpai range of the eastern Sundarbans, in the suburbs of Joymonir Ghol in Mongla's Chila union, has been chosen for establishing the Sundarbans Museum and Interpretation Center, the first of its kind in Bangladesh.
The centre has been initiated by WildTeam, with support from the forest department and KfW-German Cooperation under IUCN's Integrated Tiger Habitat Conservation Programme. It will conduct research on the facts, heritage, and history of the Sundarbans region, which is home to an array of biodiversity.
It looks to widely disseminate knowledge regarding the forest's flora and fauna while advocating for its conservation.
OBJECTIVE AND AUDIENCE
The centre primarily aims to increase knowledge and pro-environmental attitudes among local people, national and international tourists.
It will also function as a story-sharing hub, delving into the history, culture, and lifestyle of the forest dwellers, shared Enayetullah Khan, founder of WildTeam.
"The centre also aims to create awareness about threats to the forest and formulating ways of conserving it for the future. It will also help promote local ecotourism," he added.
Planned originally for locals, especially youths, the initiative will also enable foreign tourists learn a lot about this world heritage site, mentioned the WildTeam founder.
It can also benefit local authorities by giving them access to information and insights about the forest's wildlife, he added.
EXHIBITS TO BE ON DISPLAY
Alongside providing an in-depth insight into the forest's natural wildlife, both the existing and extinct ones, the centre will showcase a wide array of display exhibits.
While dedicated segments will focus on narrating the forest's history and heritage, a part of the centre will be allotted to celebrating the lifestyle of its people and how they co-exist with nature.
The exhibits will also look to highlight the threats the world's mangrove forest is facing, while informing visitors of the wildlife act and policies and wildlife survey techniques.
Special emphasis will be given to eradicating poaching, human-wildlife conflict, unsustainable resource collection, poison fishing, venison consumption, illegal logging, plastic pollution, unplanned industrialisation, and uncontrolled tourism.
Visitors will also be able to explore the livelihood practices, local arts and traditions, and myths and beliefs in the region at the centre, said Enayetullah Khan.
Information outlets for occupations related to the Sundarbans, such as fishing, honey collection, mangrove palm (nypa fruticans) harvest, crab collection, and wood logging, will also be set up at the centre.
"Displays will have an engaging mixture of art, illustrations, photos, objects (both real and artificial), and also audio-visuals as necessary. Interactive design will be used as much as possible to intrigue the visitors and aid retention of key pieces of information," he mentioned.
The mode of language for the displays will be Bangla and local names and terms will be used in the descriptions. Key information on each display will also be given in English for the international audiences, Enayetullah Khan said.
Facilities like interactive eco-games, audio-visuals, and other educational materials for children to enhance their knowledge and interests in the Sundarbans will be also available at the centre.
 "One of the objectives of this centre is to provide a space for visitors to exchange views, share knowledge, and develop ideas to conserve nature. There will be a number of different spaces that will encourage visitors to gather within the building and on its grounds for discussions and views-exchange," he added.