'UNESCO prize is a tribute to Bangabandhu's contribution to global humanity'
Says PM Hasina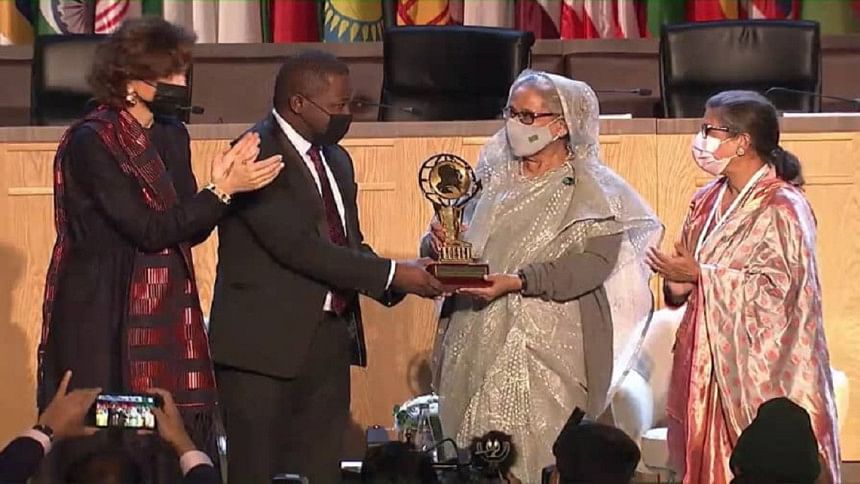 Prime Minister Sheikh Hasina has handed over the "UNESCO-Bangladesh Bangabandhu Sheikh Mujibur Rahman International Prize for the Creative Economy" to MoTIV, a Uganda-based integrated creative studio.
Noel Collin Kaijabwango, business and operations lead of MoTIV, received the prize and certificate on behalf of the team.
PM's younger sister Sheikh Rehana was present beside her while she handed over the prize.
Audrey Azoulay, UNESCO director-general delivered the welcome remarks at the programme held yesterday.
The first award-giving ceremony coincided with the Golden Jubilee of Bangladesh's Independence.
Addressing the function, the premier said, "UNESCO's decision to establish the UNESCO-Bangladesh Bangabandhu Sheikh Mujibur Rahman International Prize for the Creative Economy, is the most befitting tribute to his contribution to global humanity and peace".
"What Bangladesh is today is so different from what it was during the early years of independence. It is due to his visionary leadership and legacy," she added.
While acknowledging the international community's support in developing Bangladesh over the decades, the prime minister also wished to contribute to the socio-economic development and technological advancement for the betterment of the global community despite Bangladesh's limited capacity.
The purpose of the UNESCO-Bangladesh Bangabandhu Prize is to recognise and reward exceptional initiatives of an individual, institution, entity or non-governmental organisation which or who, devised and delivered innovative projects or programmes that promote youth entrepreneurship in the area of the creative economy.
MoTIV was selected among 69 nominations submitted for the creative economy prize and will receive $50,000 in recognition of its innovative work to promote youth entrepreneurship in the creative economy.
Located in Kampala, Uganda, MoTIV is an integrated creative studio that fosters collaboration in an impactful and sustainable way through providing tools and training.
It works across different domains such as product and fashion design, helping entrepreneurs to refine and scale up their businesses.
The $50,000 prize is awarded on a biennial basis, initially for three iterations of the Prize.
The prize, supported by Bangladesh, bears the name of Bangabandhu in honour of the Father of the Nation of Bangladesh on his birth centenary.